One of the most interesting and arguable topics in the Indie (and traditionally published) markets is the price point for eBooks. While I haven't yet made up my own mind completely, my own personal stance has been that the devaluation of all our hard work (i.e. the market presence that has been driving the price of our novels to less than that of one song on iTunes) is not a good thing.  As I am always interested in hearing another writer's perspective on the subject, when I heard Sev Winters had a blog post regarding his new stance and strategy, I was more than happy to have him guest post it here. I think it makes a worthy addition to the debate. So without further stage-hogging by yours truly, here is Sev's post!
(P.S. I don't think there is necessarily anything Freudian about Sev's post; the alliterative nature felt right to me this fine morn.)
~~~~~~~~~~~~~~~~~~~~~~~~~~~
Why I'm Raising the Prices on My Independently Published Kindle Books –and If You're Smart, You Will Too.
By
Sevastian Winters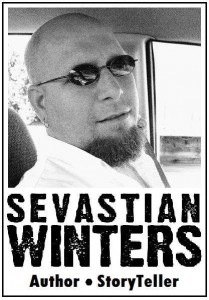 John Locke and Amanda Hocking made their mark selling cheap eBooks for anywhere from 99 cents to $2.99. Some of us even bought, read, and enjoyed John Locke's book 'How I Sold 1 Million eBooks in 5 months,' a book in which he cautioned us to do our own math and to make sound business decisions. Most of us said 'Wow, he sold a million books' and set out, lock, stock, and barrel to replicate him. After all, we assumed, we're better writers than him, and a $350,000 pay day for half a year of work is pretty good.
A few of us were even smart enough to sort out that our success would likely be different, so we extrapolated that if Locke sold a million copies in 5 months, that he sold 2 million in 10 months and 400,000 in two, earning him $840,000. We surmised that even if we did 1/10 as well as John Locke, that $84,000 is still a pretty good chunk of change – enough to live our dreams of spending our lives as novelists.
We got so taken in by the numbers, that we rushed off to duplicate his business model, without any deference to the most important thing he said – that we should do our own math and make sound business decisions.
Selling Kindle books for 99 cents, $1.99, $2.99, and $3.99 is stupid business. Here's why:
Businesses have overhead, and you are not absolved from overhead just because you are independently published. Publishers pay not only the author's royalties, but they also pay graphic artists, editors (content editors, line editors, and proof-readers (Two or three different people)), distributors, publicists, and advertising companies. There are absolutely some guerrilla-marketing-friendly ways of achieving some of those ends, but in the end, if you want quality, you're also going to have to pay for it –either on the front end or the back end of your business. There is no way around that. Let's look at those things one at a time:
1)      Graphic Artists: You are likely not a graphic artist. You have very little understanding of branding. You have less understanding than that of the purpose of book covers, and frankly, since 80% of a book sale to strangers (the people you are going to have to attract if you want to make your living selling your work) is decided on the book cover, I'm going to go out on a limb and say that it's important not only to know those things, for purposes of imparting that wisdom to your artist, but it's important to also hire an artist. A good book cover may cost as much as $300. But even if you cheap out and choose one of the $39 book cover offers from artists who don't know the first thing about marketing, you're going to have to sell a whole lot of books before you even break even on the cover. (By the way, I provided an excellent education on book covers in my book 'How I are Becomed a Very Much Gooder Author.' You won't find it anywhere else. My book is worth the price, for that information alone.)
2)      Editors: If readers have learned anything about Indie books, it's that they are fraught with editing problems. Mine have sadly been no exception, and I recently pushed my way through a series of less-than-qualified editors to find a few worth their salt (and by "salt," I mean the money I have to cough up for their services) There is no way around it. You are absolutely going to have to hire editors. How you go about paying for them is your business. But like the man who has himself for a lawyer, the writer that has himself for an editor is a fool.
3)      Publicists and Advertising Companies: Publicists are over-rated until you make it big, but you're going to have to do some marketing. Social media may be part of your marketing plan, but if it is the entirety of it, plan on getting or keeping a day job. You're going to need it. You won't make your splash in the social media pool. Yes, you'll pick up some readers, some customers, and maybe even a few fans, but you are never going to earn a living selling only to your social media contacts. They have value, so don't discount them, but if you want to earn your living as an author, you're going to have to start selling to people that you're never going to meet in any format. Period. Advertising costs money. Whether you use advertising specialty items, or Facebook/Adsense ads, or newspaper ads, or any of the other options available when marketing your book, you're going to need to spend some money. There's no legitimate way around that.
So let me ask you this: If you sell a Kindle book for 99 cents, your royalty is about 35 cents, which after paying 30% in taxes, yields you 24.5 cents per cover,  (and if you don't think Amazon knows how to handle decimals you're crazy) If you're selling for $2.99, you do a little better. Your yield is $1.46. My question is this: How the heck are you going to pay for your business and your author, with that kind of scratch? NOT GOING TO HAPPEN.
There's more to consider, than just the costs of overhead:
1.      You are the company you keep: Let's face facts: When you sell your books for $2.99, you identify yourself with the Indie pool instead of with the pros. What do people know about the Indie pool? Firstly, they know that most Indie books suck. They're largely written by people who don't understand the importance of learning their craft, not to mention an ongoing dedication to further learning. Hell, most people reading this won't even ante up a few bucks to read my book 'How I are Becomed a Very Much Gooder Author,' no less writing bibles like 'Stein on Writing,' 'Techniques of the Selling Author,' 'Self-Editing for Fiction Writers,' or 'How to Write a Damn Good Novel.'
Most  Indie authors have heard terms like "show vs. tell," but they don't know what it means – at least not viscerally. They don't know why adjectives or adverbs are bad. They don't get it, but they're writing books anyhow. The result is typically crap, and readers know it. They can't afford editors, so they do it themselves, and they rely on their friendships to legitimize themselves as authors. I've been guilty of every one of those crimes, but no more.
2.      Prices matter more to authors than readers: I started out selling my books for $11.99. After reading Locke's book, I lowered the price to $2.99 and in one case, $3.99. Guess what I found out? People who will spend $2.99 to read your work, will also pay $11.99, and if they connect with it, they will  pimp it every bit as much. I sold just as many books when I was selling them for $11.99 as when I dropped my pricing to try out the new fad. The result? I had no money for advertising, editors, graphics, or any of the other elements of what it takes to run my business.
3.      Higher pricing isn't hurting the big guys: Stephen King, Dean Koontz, and James Patterson all sell their work for between $7.99 and $12.99 per Kindle cover, and despite that John Locke's books made the Kindle best seller lists, so did King, Koontz, and Patterson.
Reader's aren't so cash-tight that they will reject a book that looks interesting to them, on the basis of a six dollar price differential. We live in a world where people pay $6 for a presumably special cup of coffee, which between you and me, usually tastes like it's burned. We live in a world where cell phone users will pay $5 so their cell phone has a special ring-tone, and who will then spend $5 more just three days later because they're tired of it. They don't give a crap about price. They want QUALITY!
Do you want to make your living independently writing and selling books? Then, do these things:
1)      Learn and continue learning your craft. (For example, buy and read a copy of  'How I are Becomed a Very Much Gooder Author'…and do it RIGHT NOW) There is no substitute for excellent product…not even ridiculously low pricing. A 99 cent book is too fricken' expensive if the book is written poorly.
2)      Run your business like a business. Evaluate the costs of overhead, and price your work appropriately. Right now, as I write this, my work is still too cheap, but starting February 15th, it's going up… to $8.99. I'm not an Indie Author. I'm an author, and I'm not selling books. I'm selling Sevastian Winters books. No one else can do that! (Reason for the delay: my past work is being re-edited…one of the benefits of going Indie)
3)      Never stop improving! Apple would be but a distant memory had it stopped with the Apple II. Instead, it's the world's most valuable company. What's remarkable about that is that not only do apple fans line up outside the doors of their stores excited for each new product launch, but Apple fans pay CONSIDERABLY MORE for Apple products than customers of similar offerings. Writers improve by continuing to learn, by constantly reviewing craft, and by reading and applying books like 'How I are Becomed a Very Much Gooder Author,' and similar offerings. It takes more than talent to write well. There are also skills to learn.
February 15th 2012, I'm raising my prices to $8.99… and if you're smart, you'll do the same… or something like it. Good luck with your business!