A few weeks ago I received some emails from a person who was clearly not lucid. The person was also tweeting gibberish with my @rsguthrie name in the tweets. I never responded to him, naturally hoping the delusion would solve itself. There was nothing threatening or dangerous in the posts or emails, so I assumed it was just more chaff that would eventually dry out and blow away.
Well I was notified that two days ago the person published a book on Amazon with my author name both on his cover and listed as the sole contributor (Editor). All of this without him ever actually hearing from or speaking with me! And here's the scary part:
Amazon's publishing review team (you know, the experts that can take twelve hours to decide whether your book—even just a price or text change—is proper for release to the civilized world), infamous and ruthless as they may be (twice having stopped my upload for a search keyword that was "too broad"), allowed this person to post a book with my name on the cover and listing me as its sole contributor without ever consulting me.

So I wrote Amazon KDP and their lauded team of gatekeepers last night, and they informed me the onus is on me to provide proof that my trademark (author name) has been infringed upon, meanwhile leaving the person's book up on their site!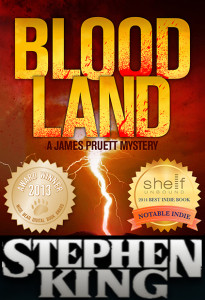 To say I am aghast is the understatement of 2015. I should publish a book under Stephen King's name and make a quick million before they sort it out and take it down!
Caveat Emptor, and then some! If someone uses your name, and puts you as the sole contributor, the book appears on Amazon's site as your book. How this can happen is beyond me. I've had to go to my AuthorCentral page because Amazon did not have one of my books correctly tied to my name, but some stranger can post work that claims to be written/edited/whatever by ME, and there is no verification process whatsoever.
Not an exciting or interesting blog, per se, but one I felt I should post to let authors (and readers) know that such fraud is not only possible, it is verifiable!
Now, since I hate posting pure negativity, let me finish by presenting you a Friday laugh from one of my all-time favorite movies (as if the above book parody wasn't enough). It's unrelated, but a great way to start the weekend:
~~~~~~~~~~~~~~~~~~~~~~~~~~~~~~~~~~
The blank page is dead…long live the blank page.
~~~~~~~~~~~~~~~~~~~~~~~~~~~~~~~~~~