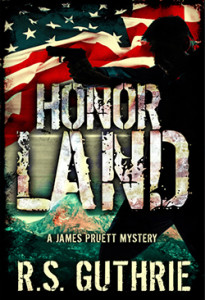 For any readers out there not on my list (or authors who enjoy my books), I am hosting a release giveaway for the third James Pruett Mystery, Honor Land. If you want the first two books free, Blood Land is free on Amazon and if you follow this link (http://bit.ly/rsguthrie) and sign up for my newsletter, you'll receive the information on the giveaway. Entries begin tonight! The link to the Rafflecopter contest is on the last page of the book and entries begin Thursday, April 30th @ 12:00 AM EDT through Friday, May 1st @ 11:59 PM EDT.
(Also, since quite a few of my readers are authors, and you may have missed my blog regarding the new cover artist I found who is revamping my cadre of books and is the nicest, best-priced, most talented cover designer I've met. If so, shoot me an email or respond to this post. The cover showcased here is the new Honor Land design on which he's in process!)
Back to the contest/giveaway:
The Grand Prize is an Amazon Kindle Fire HD 7! It has 8 Gigabytes of storage for your movies, books, etc., a 7″ high definition screen, and Wi-Fi connectivity. For second place I'll be giving out three signed copies of Blood Land (the new matte cover if you're willing to wait for it), and for third place in the drawing, I will be giving out five digital copies of the Denver Detective Bobby Mac series (Black Beast, L O S T, and Reckoning).

The giveaway link can also be found on the Giveaway tab on the R.S. Guthrie Author Page on Facebook here: facebook.com/rsguthriebooks.