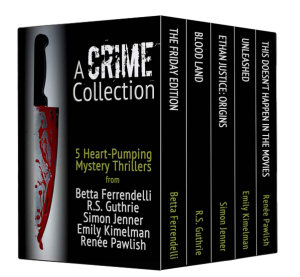 When I was asked to join a boxed-set collaboration, I must admit I felt trepidation at first, but when I saw the lineup of writers, I was more than happy to participate; I was honored. All four writers with whom I would be collaborating are successful, prolific, and talented writers. What writer would not join up with such a group?
This week I will be featuring one of my co-writers each day, Tuesday the 28th through Halloween Night. It's a privilege to for me, as well as you, to get to know these writers as individuals. Too often we are caught up in the enjoyment of reading a novel that we forget there is a hardworking, dedicated writer behind the characters and plots and twists and turns.
First this week I am so pleased to introduce the extraordinary EMILY KIMELMAN!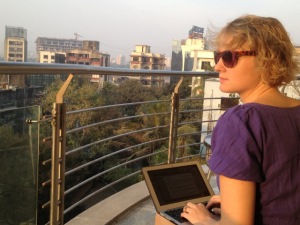 R.S.: So, Emily, tel me about yourself. From what I've heard through the grapevine, you've led an impressive life of overcoming obstacles that makes mine look like a helping of dry mashed potatoes!
EK: I was born in Philadelphia but moved to Texas within weeks. My Dad was a correspondent for the Philadelphia Inquirer and after only two short years in Texas (a State still close to my heart and where my younger brother currently resides) we moved again, this time to Moscow.
My first memories are from that time. My older brother and I shared a fairytale like existence completely oblivious to the turmoil and danger around us. I've never felt so safe as when wondering the streets of Moscow.
I learned English and Russian at the same time but neither of them particularly well. I couldn't say my R's or my L's in either language. Both alphabets remained a mystery. We returned to Philadelphia when I was 6 and it didn't take long for my parents and teachers to realize I was severely dyslexic.
Luckily for me we lived near the best school in the country for kids with problems like mine, Benchmark. The school was intense. It was learning to read boot camp. We weren't even allowed to talk during lunch, they read to us. And with my Dad reading to me every night at home it didn't take much for me to fall in love with books. My young heart yearned for those jumbles of squiggles to make sense.
One day when I was 10 or 11 it just clicked for  me and I could read. My f's no longer faced the wrong direction, I could tell the difference between a b and a d, and I was flying through Agatha Christie novels. Mystery novels quickly became my genre. My parents fueled my addiction with their large collection of P.D James, Dorothy L. Sayers, Raymond Chandler and other greats.
I didn't believe that I could write crime fiction until I was in college and I read this really terrible mystery where cats figure out the puzzle and it turns out to be aliens. I decided right then to write my own.
I dedicated my collegiate studies at NYU to the history of forensic science, homicide, and detective novels. I wanted to understand what these books did for us, how they veered from reality, and what gave them such importance in our culture.
I was walking dogs at the time which is a very strange profession. I would go into all these people's houses and take care of their pets but we never met. I saw pictures in their house so would recognize them but they had no idea what I looked like. This strange anonymity seemed perfectly suited to a murder investigation.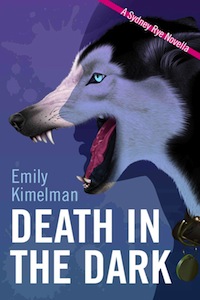 My dog, Nova, became the inspiration for Sydney's dog, Blue, and they both grew in my mind until the story was down on paper. It took 6 years to publish UNLEASHED from tip to tail. I love the cover by the amazing Autumn Whitehurst, my good friend and a super talented illustrator.
Now I've published five Sydney Rye novels in total and the sixth is up for pre-order. It kind of amazes me. Without the support of my family, my incredible husband and my readers, the adventure filled life I lead would be impossible. I'm very grateful for all the support that I have. To learn more about my adventures with my husband and dog (Kinsey Milhone, pup detective) you can read my blog. I've written from India, Costa Rica, floating aboard my trawler, OUR WAY, on the hudson river, and now am in Woodstock, Ny, where bears and birds are out to get me.
R.S.: Okay, I have to start with your books. Dogs. They are to me (and my wife) the most amazing creatures on the planet, and your Sydney Rye book series centers around (among other things) the relationship between your protagonist and a K-9 (Blue). Tell me briefly about the series.

EK: The Sydney Rye series of mysteries feature a strong female protagonist and her rescue dog, Blue. It is recommended for the 18+ who enjoy some violence, don't mind dirty language, and are up for a dash of sex. Not to mention an awesome, rollicking good mystery! UNLEASHED is the first book in Emily Kimelman's best selling Sydney Rye series of mysteries.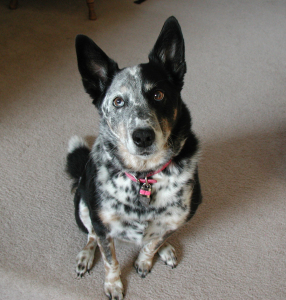 R.S.: Okay, I don't usually talk about myself in these interviews, but we used to have a Blue Heeler mix, Maggie, who I think bears a striking resemblance to your Blue (single blue eye and everything! So just because I can, and because I miss her, I'm going to share a pic of her here and see if you agree.

R.S.:So what kind of expectations did you have joining a multi-writer, multi-book collaboration? Writers can be a fickle bunch.
EK: This is my first time in a box set. I choose to include my first book, UNLEASHED, because, well, starting at the beginning always makes sense 🙂 However, I believe that each of my Sydney Rye books can stand alone. My series features a strong female protagonist and her canine best friend, Blue. Sydney Rye is defiantly on the darker side of the mystery thriller spectrum but I love the entire genre which is one of the reasons I wanted to be in this box set.

R.S.: Your series is right up my alley, Emily. The darker, the better! Do you write under your real name (or some form of it it, like R.S. Guthrie, the initials being my first and middle names) or a pen name? If a pen name, why your particular choice; if not, have you ever considered it and why?

EK: I write under my maiden name, Emily Kimelman. My full name, Emily Joy Caroline Kimelman Gilvey is just way too long. But it also means that if I want pen names I am hooked up. E.J Kimelman is what I'm thinking I'll use for my new urban fantasy series which I'm releasing at the end of the year. I kind of like the name Caroline Gilvey for writing sweet romance (not that I'll ever write sweet romance, Sydney Rye would kick my ass, but, still, it's a good pen name for it).

R.S.: Pen names are a great way to explore other genres without losing your brand! I asked you for a couple of photos from your life and why the mean something to you.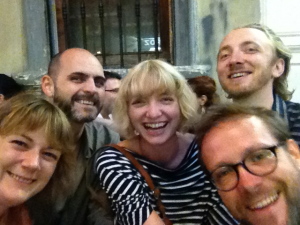 EK: I've attached two photos. One is of myself with my husband, Sean, brother, David, his husband, Kevin and my best friend, Mette. It was our first night in Istanbul at the beginning of a trip to Turkey and we were having so much fun. I think this picture really captures our relationship. Just tons of big smiles. I feel incredibly lucky to have such adventurous, supporting, exciting people in my life.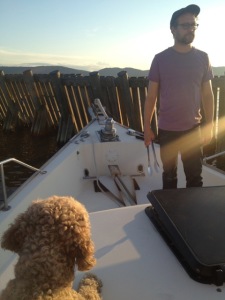 The next one is of my husband and dog, Kinsey, on our boat, OUR WAY, at sunset. Sean is grilling up some food and Kinsey is just enjoying the view. We lived on OUR WAY for two years and it was romantic and scary and I've never slept better in my whole life
R.S.: I've always wanted to live on a boat (in the harbor, docked, tied, and far from stormy seas)! Great group shot, too; nothing better than family and friends having a great time. Speaking of family and friends, what do your friends and family (and co-workers, if you still hold down a "day job") think about your writing? Do they take you seriously or wave it off as a "hobby" or worse?
EK: My brother, David, and best friend, Mette, are the ones who convinced me to take up writing seriously. I dedicated UNLEASHED to them. My father, who was a professional writer for decades, now does the final edits on all my books. I've never had a normal j.o.b. I've bartended and waited tables, I even owned a glassblowing studio and gallery for awhile. But the point is no one in my life ever thought I was going to follow a prescribed path so were not surprised or disappointed when I announced my plans to become a self published author. Since my books have made a couple of best seller lists I even come off well at cocktail parties. And really, isn't that what it all comes down to? How well you can defend your life choices to strangers over canapés.
R.S.: HA! Amen. What elements tickle your muse and make you really want to write? (The great outdoors; music' a particular mood or day of the week; etc.)
EK: For me it's music and travel. I'm on the road a lot and that's because I find new places totally inspiring. When I come back from months away it changes how I see my home too. I love that. Also, rocking out to some awesome music while writing an insane action scene is so freaking fun!

R.S.: So what are you working on currently?
EK: INVITING FIRE (Sydney Rye #6) which comes out 11.28.14 and is available for pre-order now.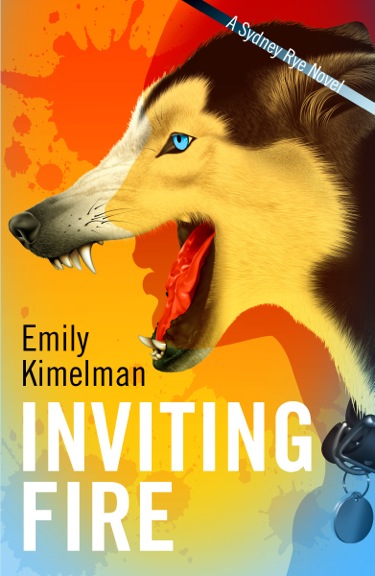 R.S. Have you gone (or always been) digital or do you still use a typewriter?
EK: I started digital and the computer is still the most important tool I have but I recently got a typewriter and love it.  I don't write fiction on it but letters. I've started a wonderful correspondence with Autumn Whitehurst, who does my covers and is a close friend.  it's very funny to hear our thoughts expressed in the slow, no backspace, world of the typewriter. I also write letters to readers on it. If anyone wants to get a letter they should enter our giveaway. Then they too can get a glimpse into my mind via typewriter.

R.S.: Well I have to give a shout out to Autumn because your covers are really something special. One final, "off the wall" question: Did you ever wish you could change your name? If you actually did it—legally changed your name—what would your new identity's moniker be? One name, like Madonna, or multiple like Edward James Olmos? Middle name?
EK: When I was in middle school I really wanted my name to be Starburst, or Starfish. Something with Star in it. That didn't work out.

R.S.: The good news is, there's always time! I think "Starbust" is an excellent choice. Well, Emily, it's been a pleasure both working with you and doing the interview. I hope we can collaborate in the future and I wish you nothing but great fortune in your future writing endeavors.
Thanks much for the interview AND for joining in the "A Crime Collection" boxed set, which I believe is still FREE, FREE, FREE!!!!!
You can find Emily in the usual social media hangouts: