Launching "A Crime Collection" Box Set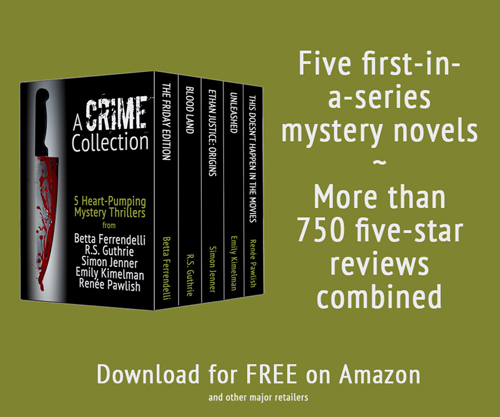 I've been working with four best-selling mystery authors to combine our five first-in-a-series novels into a FREE box set, and today is the official launch day for "A Crime Collection".

Five murders

Five mysteries

Five first-in-a-series novels

FREE

These spellbinding stories, filled with twists and turns, murder, intrigue and suspense, feature captivating and unforgettable characters and have been reviewed more than 1,600 times and have earned more than 750 five-star reviews.

Did I mention the box set was FREE? So what are you still doing here? Head over to Amazon (or other major retailers) and grab your copy today.

These five full-length heart-pumping mystery thrillers are available in this very special bundle for a limited time only. They include:

THE FRIDAY EDITION – Betta Ferrendelli

BLOOD LAND – R.S. Guthrie

ETHAN JUSTICE: ORIGINS – Simon Jenner

UNLEASHED – Emily Kimelman

THIS DOESN'T HAPPEN IN THE MOVIES – Renée Pawlish


Do You Want To Party?
Looking for a change of tempo this Saturday (25th October 2014), then put 1pm EST/6pm UK in your diary and pop along to our Facebook launch party for fun and games and to chat with the authors.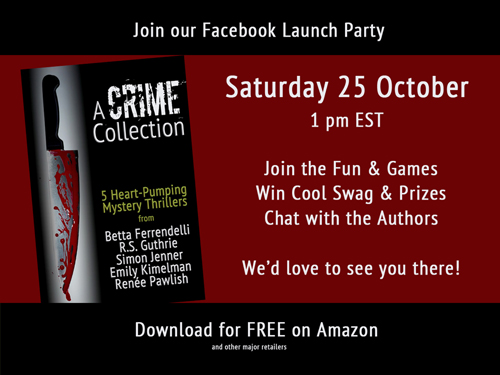 Win Cool Stuff
Finally, to celebrate the launch, we are giving away lots of cool stuff, including hand marked manuscript pages, personal letters, a gift card, and of course, books – audiobooks, paperbacks, and ebooks!

So download your FREE copy of the box set from Amazon, let us know on the entry page once you've downloaded and you'll be entered to win. It's that simple!