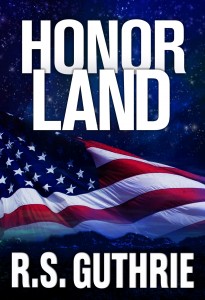 As I prepare to release the third novel in my Sheriff James Pruett series, Honor Land, I had occasion to reread the first book in the collection, Blood Land, again. I've talked about that book being the one that was always inside me, growing up in Wyoming. I know those people so well; their mannerisms, their attitudes and motivations; their loyalties. That was the book/series I had to write—not in a bad way but, rather, in that pining way. My father pined for Wyoming and I pined with him, though I did not know what was in store for us, leaving the Midwestern cornfields of Iowa.
But he was right. He knew what lay ahead for us. And now Wyoming's in my heart.
Which is where you come in, Mr. Eastwood. From here on in I am going to call you Clint, if that's all right. It may be a moot point as you likely will never read this unearthed blog, written by an unknown author. Or at least unknown to you. But when I write, I write in the familiar, and since the format of the rest of this post is to you, well, you understand.
What I mentioned about my father and Wyoming is so true; honestly it's a near spiritual thing. I can't explain it. Perhaps you have spent some time in the state (one would certainly be inclined to think so, with all the brilliant Westerns you've created over the decades). I am digressing, so let me first get to the challenge: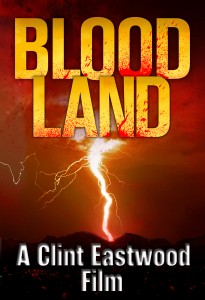 I challenge you to consider making Blood Land into your final Western.
I know, bold statement, right?
Crazy, perhaps. Looney tunes.
Delusional grandeur?
No. I can say with certainty it's not. I cannot tell you why, exactly, but I have always believed that my father, from wherever he is now, channeled a fair bit through me as I wrote the book. He loved you and your movies. I won't lie and say you were a bigger hero to him than The Duke for him, but God did he love your movies. My biggest regret is that he didn't live to see you making some of the best movies you've made to date (non-Westerns, I mean: Million Dollar Baby and Dennis Lehane's Mystic River, to name just two). He also missed your best Western yet, Unforgiven.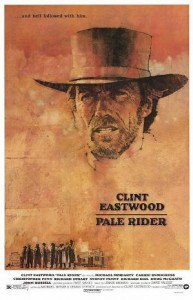 My father would have thought so, too. I knew him well when it came to movies—that was our "common ground". That, and Westerns. I say that because Westerns (and, more specifically, movies with you or John Wayne), they held a place a cut above for him. He loved movies, as do I, but when you came out with Pale Rider, so late (to him, at the time) in your career, that I think Dad believed you would never do another Western (I can tell you he loved the Dirty Harry movies, but he pined for you being back in the saddle again, literally).
He only went to two movies that I know of, since our town had no theater and he had to drive the 70 miles up to Jackson Hole, but one of them was Pale Rider, my mom in tow.
I dedicated my book to him. It was the third book I wrote, but for me it was really my first. You probably understand. It was the first that had slept within me, patiently waiting for release to the page. The story I needed to tell. I had grown to manhood in this remote Wyoming town, and all of its tales and legends and secrets were bound inside my muse.
I only wish my father had lived long enough to read it. I really do.
The best I could muster was to make it his:

"For my father,
who pined for great tales
and who loved Wyoming
as much as any pioneer.
I miss you."
Now, lest you do believe my challenge egomaniacally insane (what is more insane, actually, is to keep punching at the keys as if you are, or will be, reading this), I have been told by at least a dozen people whom I trust, creatively, that this needs to be made into a movie, and that there is only one movie-maker alive who could do it right.
The more I have mulled about it over the years—and the more I have treated myself to a fantastical imagining of our collaboration—the more a thought I had shortly after I finished the book (and right after someone mentioned you making the movie version) coalesced in my mind:
Clint's never really made a modern, contemporary Western.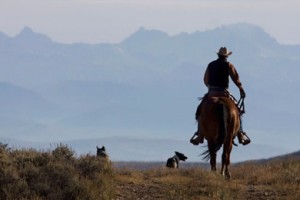 What I mean to say is, there are still cowboys in the West—they still talk the same, sidle up and down the street the same, drive cattle the same, spit tobacco the same as they always have (Mr. Carpetbagger)—but, like the rest of us, they simply have new-era problems that concern them. Rather than whores in Big Whiskey, it's natural gas mineral rights (who has 'em and who don't).
But the way they deal with such modern day issues is, almost magically, also the same. There is a fairness and grit to the people I will always think of as my own, but as with any human settlement, big or small, there is greed.

So here we are. I'm out of compliments (well, not really, but I'll spare you the praise), out of reasons, and I won't beg (nor will I indulge myself on the page, continue this imagining of you reading this post—though it has been interesting to speak in the familiar, as if we were actually talking over a coffee or a beer).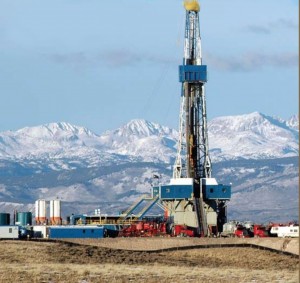 I raise a simpler challenge to end this charade:
Simply grab a copy and read the book. No one ever even has to know. Put it down when and if you decide I am a pretender to the throne; the book, Sheriff Pruett, the land games, government corruption, and small town murder a farcical concept.
But if you like it—if there is even an inkling—please don't ignore it. I have a feeling it might draw your interest. And if so, well then dangit, let's have that coffee.
Or that beer.
And I'm buying.
We'll be drinking at the Cowboy Bar in Pinedale, Wyoming, beneath the true grandeur of the Wind River mountain range, and without any man-made sculpture of iron and steel and hydraulics pointing toward the god of Energy, blocking our view.
~~~~~~~~~~~~~~~~~~~~~~~~~~~~~~~~~~
The blank page is dead…long live the blank page.
~~~~~~~~~~~~~~~~~~~~~~~~~~~~~~~~~~