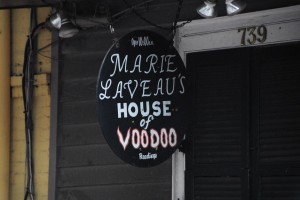 And let me tell you, after a trip to the Big Easy, and a couple voodoo shops, I am ready to follow through with my threats of cursing you with damnation.
You may have noticed a dearth of blogs from me (then again, you may not have). Well, long story short, I had a writing gig I was working the past year, and every time someone even commented on liking a blog entry or I offered up a short story that had been gathering dust to an anthology, I was accused of everything from being a cheat and a liar (about my time, not working on her book) to an outright dishonorable man.
Then denials of same. Finally, it reminded me of my ex. You know the type: they think that just because they proclaim it, it's fact. Even when facing written evidence to the contrary.
I drew the line at that last one. I don't care if you are in the early stages of dementia (or bi-polar, or both); you question my honor, you can have your project and stick it where the sun doesn't dare to peek at all. (And I loved the project; just not the client—last time I write for anyone but myself; I'm doing fine. Great, even after a year plus off.)

Thing is, and this will be the last of it I complain or say: even after all the ugliness I offered to finish the book, that is over half-done anyway, with all the care and great writing I could muster, and that she didn't even have to pay for the rest. I'd write for her gratis. You know what she called my offer?
"Most insulting."
The point of all this is, I was afraid to write. Can you imagine? A writer, afraid to write a blog, post something on FB, work a tad on their own work?
No more.
Contract terminated; talentless writer going to do the story herself.
Good luck. You couldn't write your way out of a paper bag, lady.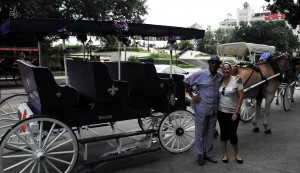 I mentioned I was in New Orleans. What a contradiction to the rude treatment of this supposed southern lady. Let me tell you, in addition to the music and the food and the nightlife (even on a Sunday, God forgive), these were the friendliest people I have ever met in my life. I mean hands down. It's good to know southern hospitality and good hearts and souls are still present in the world.
We made friends with a mule/carriage driver named David (mule/horse mixes are the only animals allowed to pull carriages in the city). We made friends with a homeless man who caddied on the pro PGA tour for years for, among others, Eduardo "El Gato" Romero, who is now on the Senior Tour. The homeless man and his friend are Vernon and Warren, respectively. Vernon is planning to come to Colorado and if so, reach out to us.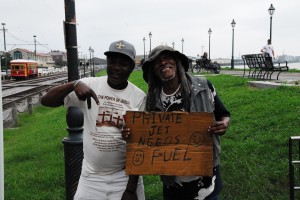 (That's right, I exchanged digits with an articulate, friendly, golf-loving homeless man. And when his dead cell was recharged a day later, he texted to let me know he received my business card photo/text.)
We met a man in a gorilla suit (THE Who Dat? Gorilla) who, after posing for a pic with my wife and kindly asking for a paltry $3 donation, informed me his wife, who was sitting quietly, unassumingly in the shade, was the real star.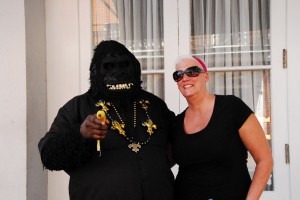 "Come over and sing some Gospel for these kind people," he said. "You like Gospel?" I told him I did—loved it, in fact.
He told me before she opened her mouth that she'd made it to low-digit rounds in every singing competition around, including American Idol. When she opened up and sang for us, even hoarse after a show the night before, she fishing blew us away.
I mean:
Blew. Us. Away.
"Do a rap for them, baby," the gorilla-suited husband said (he was just starting to perspire—he in a full gorilla suit, me in shorts and a short-sleeved shirt, me soaked like I'd been thrown in a swimming pool. "You like hip-hop? Mix it up baby." She rendered a mix of Gospel and Hip-Hop that left us speechless. I asked her to do it again for the cell phone video camera. She did a slightly different tune and riff.
Amazing.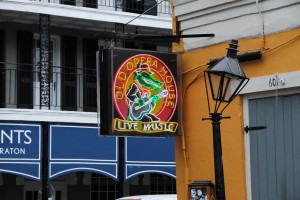 The night before we'd stopped in a half-empty club on Frenchman where a Rhythm and Blues band was playing; sat at a table right up front. Best damn Rhythm and Blues I'd heard since Muddy Waters, Taj Mahal, Son House, or The Blues Brothers (and these guys could have taken on Jake and Elwood and given them a run). Talking with the drummer in-between sets (you talk to everyone in NOLA, and I mean TALK. Not "How's the weather?" You find out how their kids are doing, or why they divorced from their wife, or maybe about their parole officer being just around the corner and a really decent man).
The drummer (who was outstanding himself) told me after I mentioned how good their guitar player was, "Man, I am not kidding when I say this, I think he might be the best Blues guitar player in New Orleans."
Bold statement, but that's the kind of talent you witness in every bar, club, street corner, and yes, even just off a shade-kissed window sill.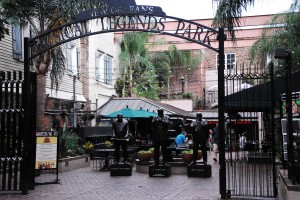 Leaving the bar after their second set, we encountered a quartet of musicians we'd seen a few doors down when we were just arriving, going over their set list for the night. My wife said "Check it out, getting ready for their show tonight, just waiting for the place to open up."
Turns out, the place wasn't opening up, but was just a slightly deeper entryway to fit the four of them. They were playing as we came out. I asked them if it was alright if I video and one said, "Hey, thanks for asking."
So I did. Video, that is. They were amazing, too.
The only people who weren't kind, friendly, gregarious, and willing to open their souls to you were the dip-squat tourist from the rest of America. Not New Orleans folk. They were genuine; the real deal.
Who dat?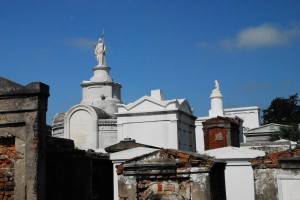 It was a really nice weekend. And we plan to return. Oh, and somewhere along the line I turned 50. Yeah. THAT decade. But I keep telling people I feel 30. 25 even. I've not felt better since my 20's. My knee and hip joints don't agree, nor my short vision, but beyond that, I am at one of the best places in my life.
So expect more from me now. Quite a bit more, I hope.
And go see New Orleans. Be a tourist (but a respectful, kind, listening one). You'll find out what we found out:
That city has been through, arguably, the worst any city as a whole has ever had to face, and they've come through it stronger and more dignified and human than before.
Nawlins, man, do I salute you.
You're in my soul now.
~~~~~~~~~~~~~~~~~~~~~~~~~~~~~~~~~~
The blank page is dead…long live the blank page.
~~~~~~~~~~~~~~~~~~~~~~~~~~~~~~~~~~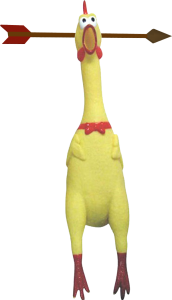 Author known to use spontaneous satire, sarcasm, and unannounced injections of pith or witticisms which may not be suitable for humorless or otherwise jest-challenged individuals. (Witticisms not guaranteed to be witty, funny, comical, hilarious, clever, scintillating, whimsical, wise, endearing, keen, savvy, sagacious, penetrating, fanciful, or otherwise enjoyable. The Surgeon General has determined through laboratory testing that sarcasm can be dangerous, even in small amounts, and should not be ingested by those who are serious, somber, pensive, weighty, funereal, unsmiling, poker-faced, sober, or pregnant.) For those who enjoy and/or revel in the utterance of profanity, the author reserves the right to substitute "fish" for "fuck" without fear of repercussion, mental reservation, or purpose of evasion.