On September 6, 2013, in Advertising, BookBub, Books on Writing, Constructive Criticism, Customer Loyalty (or Lack Thereof), Discouragement vs. Encouragement, Indie Ad Sites, Indie Authors, Indie Reader, Marketing, Opinion, Poor Writing, Sales, Soap Box, Success, Thoughts, by rsguthrie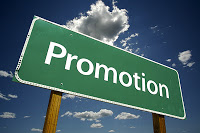 A while ago (over a year) a writer friend turned me on to an advertising site that was not cheap, but had an extraordinarily large email list of readers in myriad genres. In other words, a bit of the Fountain of Find-the-Readers into which to bathe one's books and come out the other side better-known and more distributed. The site is BookBub.
I tried them and, wow, they worked as advertised. Not inexpensive, but not crippling either—particularly when weighing the cost against the success. Here was my first example (I can't recall which of my books I advertised, but it really doesn't matter):
Genre: Mystery (BookBub charges based on a few factors, the most relevant being the number of subscribers to a particular genre's email list. Mysteries boasts the highest numbers (ergo, cost) at 480,000 proclaimed subscribers and a whopping $480 for one email blast on the day you choose (and, of course, is available). Also I believe their numbers have grown and thusly to milk every dime (viva capitalism), have increased the cost.
They prefer 99 cent or lower (free) deals, but they demand a certain reduction in price (50%, I think, but whatever the number, it becomes MUCH more costly to have a book at $2.99 or higher promo-priced—recently I submitted my trilogy (three-pack of my Bobby Mac Detective series), lowering the price from $7.99 to $2.99 (or 99 cents per book, purchased as a bundle).
BookBub wanted $900 for one email blast.
As my friend told me so long ago: they ain't cheap.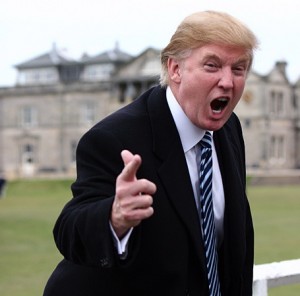 However, I have only had one campaign not pay for itself at a minimum (and in the one case where I did not sell enough books to cover the advertising, it was BB refused to run my new book (one of many on-the-fly changes in policy that you'll suddenly run into). The Bub said they'd made an" editorial decision" against running the book I wanted—the new one—and rather offered to run an earlier book in the series, which had been advertised once before). In fact, it was that campaign where I started to notice a bit of "attitude" from The Donald…or, I mean, The Bub.
Donald Trump could not care less about you, the customer. He builds what he wants, where he wants (check out the latest brouhaha in Scotland), and he charges what he decides he wants to charge. After all, he not only considers himself the smartest businessman in any room, ever, and at all times (I suppose even when he's sleeping), but he also considers everything he builds, from golf courses to casinos to hotels to television series.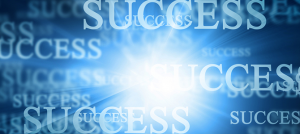 So after running several successful BookBub campaigns, I finished my own favorite book in my own canon, INK: Eight Rules to A Better Book. I was so excited. The Bub actually has an "Advice and How-To" genre. PERFECT. The list even had a semi-decent subscription number, though it was no Mystery list.
Now let me preface this by saying I wrote this book to (honestly, sincerely, and without mental purpose of narcissism) share what I felt I had learned over a half a lifetime of workshops and classes and critiques and all the rinsing and repeating I could stand. My "secrets", you could call them. I don't believe in hoarding; I DO believe in authors collaborating, sharing, and giving as much selfless support to other writers as possible. That said, there's a lot of crap out there. As with all things in life, some of the crap is salvageable and some (in my opinion) is not.
In writing INK, I was both doing something I try to accomplish in my blog and acquiesce to the writers who thought I should put my blogs into a book (I never liked that idea; I didn't want a tome, and I figured if someone wanted to read my blog, they'd already done so). Still, I very much wanted to share with all authors, experienced and not, but most arduously, the writers who have some real potential yet are still making the most common mistakes; mistakes that we've all made and quite honestly represent the difference between a damn decent book and a piece of, uh, rotted cuttlefish.
What I am getting at (and those writers who'd read the book, nearly 100% of them, agreed) is that INK accomplished the goals with which I'd set out. The initial response was overwhelmingly positive; truly, it was humbling. I knew I needed to get this book out there. I knew it would be well-received and help other writers!
BookBub rejected my advertisement. Said their "editorial staff" did not believe it was up to their standards. Oh, and at 104 pages, it was too short. They had a limit of 50,000 words or 150 pages.
Not up to their standards? Who the hell are "they"? What qualification do "they"have? Are they serious?
And who writes a 50,000 word Advice, How-To book? Who would write a NOVEL-length piece about the best way to get lice out of your child's hair and get them so sleep through a cold, or one to really make those daisies flourish and grow, grow, grow?
Besides, I intentionally made the book smaller. Eight Rules. That's it. No quest for the Holy Grail or a Hobbit's ring; just something a writer could digest in a few hours and, ideally, keep next to the computer for reference. The Forward by writer Scott Morgan is brilliant.
I wrote BB and complained. I showed them examples of several books half as long (50, 60, 70 pages) that they'd recently run. I was told their "editorial staff" makes exceptions for top notch work but didn't feel my work qualified as such.
One of the books they accepted is titled Confucius Cat Says… I hate picking on a writer and/or their work, but this "book" has a cover that looks like it was thrown together using the old version of Microsoft Paint. By a twelve-year-old. Using a picture of the family cat and the text editor, and that's it.
The witticisms inside aren't much better (and the book makes the 150 page limit by inserting multiple huge spacing between every supposedly funny yet charmingly meaningful "cat quote". The book itself can't possibly top 10,000 words. From Confucius Cat:
If all you see in life is the cat litter, you'll never experience the catnip.
Advice is like flea preventative. Few of us want to take it even though we'd often be better if we did.
A closed mind is like a hooded litter box with the door blocked. There's no way to use it effectively.
(I thought of a way: leave the cat on the inside. Then he can defecate and pee and yet NOT dispense advice where we can hear it.)
These exceedingly witless sayings go on and on and on with LOTS of white space to make it into a "book length" work.
(Spoiler for you cat-lovers: there are a LOT of references to the litter box, the litter that fills it, what can be done with and what can't be done with said litter, the cliche smell of litter, catnip, mouse-shaped cat toys, scratching posts, more litter boxes, and,oh, did I mention litter?)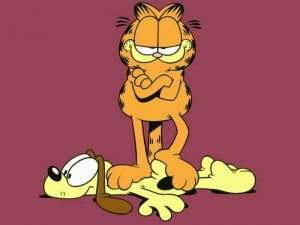 Garfield, this cat is not.
Garfield would commit feline-icide on this cat and make it look like Odie accidentally shat on it.
Back to The Bub. The Bub "editorial staff" must've loved Confucius Cat Says… qualified bunch, they.
The Bub has now gone in yet a different direction. Digging up authors past like Agatha Christie and Anne Rice (Rice, who in my opinion wasn't good back when her career exploded because of a decent screenwriter and a new heartthrob known simply as The Cruise). BB also apparently accepts any book whose cover has "New York Times Bestseller" typed across the top. Or bottom.
(Is there a New York in the middle of the Sudan?)
Seriously.
But BookBub, oh baay-bee, they have no problem issuing REJECTIONS for advertising. They don't want your money.
And the Bub loves The Donald, I just know it. If you're out there listen, Mr. Trump, you might want to consider picking at your pocket change and buy up this amazing, best of class, magnificently conceived site. It smacks of the Trump empire and your own business acumen (and delusions).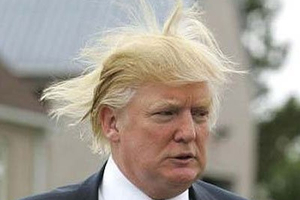 I just wonder if The Bub has the hair? I mean you gotta have the classic orange comb-over coif if you are going to roam around slamming everything from Harvard and Wharton business schools to the revered St. Andrews Links, touting yours as the biggest, longest, fattest, and most admired by the ladies. The Donald thinks everything he touches is "the world's most amazing _______" (and most people end up feeling that Trump turns the majority of these things to complete shite, to quote an old Scottish lad).
The Bub better be careful. The window of success for businesses who treat their clientele like meal tickets rather than valued partners is very small. Microscopic in the long run.
Stayed tuned. There are a few (rules-light) businesses I know of that are ramping up to help talented independent unknowns get the reach they so desperately seek (and require) at a cost that won't send them away broken and, still, unknown.
The Bub won't care. The Bub has the world's most AMAZING and SPECTACULAR advertising site. They garnered hard-earned cash from Anne Rice.
After the cost of the shovels, that is.
I think those are deductible, Bub.
~~~~~~~~~~~~~~~~~~~~~~~~~~~~~~~~~~
The blank page is dead…long live the blank page.
~~~~~~~~~~~~~~~~~~~~~~~~~~~~~~~~~~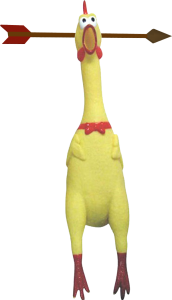 Author known to use spontaneous satire, sarcasm, and unannounced injections of pith or witticisms which may not be suitable for humorless or otherwise jest-challenged individuals. (Witticisms not guaranteed to be witty, funny, comical, hilarious, clever, scintillating, whimsical, wise, endearing, keen, savvy, sagacious, penetrating, fanciful, or otherwise enjoyable. The Surgeon General has determined through laboratory testing that sarcasm can be dangerous, even in small amounts, and should not be ingested by those who are serious, somber, pensive, weighty, funereal, unsmiling, poker-faced, sober, or pregnant.)