On September 1, 2013, in (or...), and Such, Dallas Cowboys, Fantasy Sports, Football, Just for Fun, NFL, Non-Writing-Related, Opinion, Parody, Personal Experience, by rsguthrie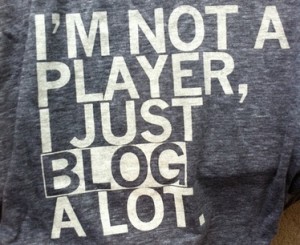 I wrote a blog a few days ago about (in large part) God. I wrote about the cage match between us. I worried and fretted because I don't blog about religion and because (particularly on the Internet) there are a LOT of people who just itch to find anyone who dares utter the word, much less blog about it.
I received ONE COMMENT.
My two readers have begun to believe my sarcastic creation of the very idea of themselves and instead of remaining in some fourth-dimensional, parallel Universe—some dystopian, Stephen Hawkingesque place where only two people read every blog; good, bad or ugly (the blog, not the readers). They have somehow been hyper-cosmically coalesced here. I have now truly lost my readership. (In complete seriousness, thank those of you whom I know felt every corpuscle in your body want to do battle, and didn't. (Vous êtes magnifique.) Seriously. I asked not to take it heavily or engage and you didn't; not even on the Internet. <Smiles graciously>
That said, my readership really has dwindled. To only two? Who knows, but I said on blog one (this being #202) that I would always write what came to me to write.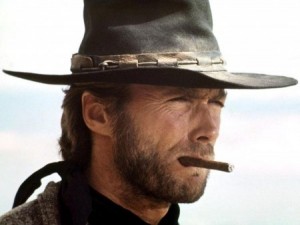 The Good, the Bad, OR the Ugly.
In addition to one of my favorite Clint Eastwood "Spaghetti Westerns", dubbed so not because they are weak, like pasta, or cheesy—although it could be argued in some Universes, including this one, that they are one, the other, or both—but because he filmed them for something like nine U.S. dolláros in Italy. Oh yeah, the fargin' things nearly have to be subtitled, so out of synch are the mouths speaking English and the sound coming out of the speakers. Like old kung fu movies.
Classic.
Now where was I? Seriously. My mind is like oatmeal without the brown sugar and raisins. Gruel. Wait, I think I used that in my last blog. Who the hell am I and what is this place?
Nah, but seriously, folks. I really feel like I'm losing my mind and am actually not in my office blogging rhapsodic but instead sitting in a rubber room drawing on the walls in crayon, writing over and over again the word shrubbery.
When people stop reading your blog, there IS a good side. That's where I was heading. You can write about ANYTHING. No worries about walking on egg yolks or stomping through the ether, afraid you'll wake the dead.
Crickets can't write back! 😉

All joshin' aside, you all know I love ya. I just can't sleep. Oh yeah, baby. The day is almost upon us, signified by the fact that I still have no idea who I am going to pick to be on my fantasy team today in that time-honored, ridiculously childish, meaningless yet completely wonderful act of drafting your own imaginary team of players and going head-to-head with other grown men and women who have succumb to the übernerdful cheesiness of Fantasy Sports.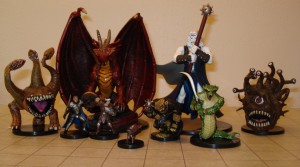 Like Dungeons and Dragons for "adults", it is, said Yoda.
But I love it. Because it signifies something much more consecrated:
The first day (night) of the new NFL season.
And God said, "Let there be football, and grown men and women wept. Not all of them in Europe, either. Or the Americas further south and central; nor in Mexico, although populated with some of the world's most devoted soccer fans, Mexicans by and large LOVE the Dallas Cowboys. In fact, until The Evil One built the new stadium into which the crows could watch His Cowboys (weather permitting), the SOCCER stadium in Mexico City held the world record for NFL attendance when the Dallas Cowboys came to town.
Amen.
Yes, tomorrow is like no other. It is a brief eighteen hours, until the final horn of the first game sounds, whereby every team (in its own fans' minds) has an equal chance to make it to, and win, the Super Bowl. All records are goose eggs, 0-0-0. Everyone on the schneid. (I know, I know, my two loyal ones; there are odds. And reality. And craziness in having faith that the Romo-Rotted Cowboys can ever again win the big 'un, no matter how freaking huge everything is in Texas).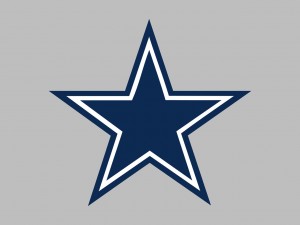 But they will always be America's Team. How can I say that? How can I be so foolishly and discriminatoryily delusional?
Because it's true. There is no other team in sports—or at least the NFL—where every single person, young or old, white or black or brown or green or chartreuse, has an opinion about one single team. Come on. Admit it. Even (and perhaps especially) so, in Texas.
You love 'em or you damn-well HATE THEM.
And OH how I am beginning to hate them. You have to forgive me my choice in teams. I was born in Iowa in 1964 (I know, I can hardly see, hear, or drive myself to the supermarket without running someone or something over). In the seventies (when I began to lose a memory that had just formed itself), when you lived in a place like Iowa, there was only one team you heard about. All right, two:
The Cowboys and the Steelers.
And I guess that damn hole in the roof was just too cool for a kid like me.
Roger Staubach. Drew Pearson. Golden Richards. (Any team with a guy called Golden Richards just cries out for some dumb kid in Iowa to love 'em.)
Tony Dorsett; Too-Tall Jones; Hollywood Henderson; Mel Renfro; Danny White (to this day one of the the only punters I know who could also quarterback the top team in the NFL); Randy White; safety tandem Charlie Waters and Cliff Harris. And don't forget older legends Bob Lilly, Don Meredith, Bob Hayes, and Mike Ditka.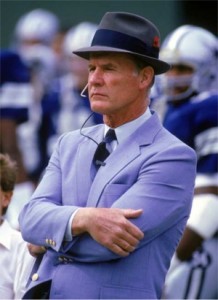 But for me it always was and always will be all about the man in the fedora.
Tom Landry.
I hate Jerry Jones, I really do. The team will never win again while a Jones is at the helm, and you know that arrogant, egomaniacal chowderhead is passing the team down to his son. The only two smart things the man ever did was hire Jimmy Johnson and make a "sky's the limit" offer to Peyton Manning (who only said no because he refused to play in the NFC, much less the East, where is brother is one helmsman).
So hate away. I'm almost there with you. A friend of mine—well, a guy of a mutual friend whom I hired because he wanted to move to Colorado from Texas and whom I let use the shower at my house each day after noontime pick-up hoops and who hasn't spoken a word to me since he left the company for greener pastures—told me an interesting story about Dallas fans (apologies for the myriad run-on sentences):
He was at a Dallas Stars hockey game in the mid-nineties. It was the one year in a run of four that the Cowboys didn't win the Super Bowl (losing a nail biter to the fearless 49'ers, down 21-0 in the first five minutes of the game and still only missing the Super Bowl by fewer points than a touchdown). The year before they would go back and win their third in four. The stadium showed Troy Aikman, who was at the hockey match, on the Jumbo-Tron.
And the Dallas crowd booed him.
I'm no band-wagoner. But you may just find me rooting against the 'Boys at some point this season.
My buddy Jay, from Philly, and a die-hard Eagles fan, will rejoice.
Amen, brother.
P.S. For those who did read about my trials this week, I quote the intrepid Bono:
Jacob wrestled the angel,
And the angel was overcome.
God bless y'all.

~~~~~~~~~~~~~~~~~~~~~~~~~~~~~~~~~~
The blank page is dead…long live the blank page.
~~~~~~~~~~~~~~~~~~~~~~~~~~~~~~~~~~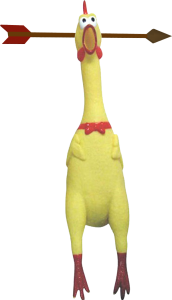 Author known to use spontaneous satire, sarcasm, and unannounced injections of pith or witticisms which may not be suitable for humorless or otherwise jest-challenged individuals. (Witticisms not guaranteed to be witty, funny, comical, hilarious, clever, scintillating, whimsical, wise, endearing, keen, savvy, sagacious, penetrating, fanciful, or otherwise enjoyable. The Surgeon General has determined through laboratory testing that sarcasm can be dangerous, even in small amounts, and should not be ingested by those who are serious, somber, pensive, weighty, funereal, unsmiling, poker-faced, sober, or pregnant.)