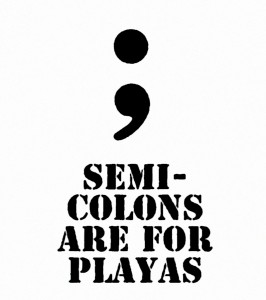 Actually only by the strictness of grammatical standards. I'm not a contrarion just because I want people to think I'm cool. When I write, it's not a decision process—its art. I do what comes naturally to me. That doesn't mean everyone is going to get it (or like it) but it's not to be different; it is because it is my style showing through. My uniqueness.
Going through high school and college I got an A in every English course I took. I'm not telling you that to brag but rather to make a point: I know the rules of grammar. And I always try to use them in appropriate situations.
Professional correspondence, as one example. But I have to admit, I don't pay them much mind in comfortable, casual speech with friends and family (as long as none are English teachers; and few are). It is not unlike the fact that I know technically you're not supposed to end a sentence with a preposition, but in casual conversation I do. All the time. Sentence fragments, too. It's how we speak. It's informal. Comfortable.
Did anyone not understand all I wrote above? Of course you did. We don't always have to write like we're doing a lab report or gunning for a thesis.
And then there's writing fiction. Since I was twelve I've been bending grammar rules, again, not to be an instigator but rather because that's what came off the end of the pencil. Sometimes you need to write a sentence fragment. For emphasis. More than once.
Yes, I know semicolons are for separating clauses that are related and could stand on their own as two sentences by placing a period between them. The semicolon is used for emphasis; it's used to bring the two thoughts just a bit closer. Even when a period would work just as well, grammatically speaking.
But stop and think about that. The semicolon is used, not because there isn't a perfectly good piece of punctuation that is technically correct (the period) but, rather, to add a little special something.
Well I say you can't get a little pregnant. I like the semicolon in other places to add flair. One of those is where a comma would do just fine. I think a semicolon in the comma's place adds the aura of pause. Not a long one, as with a period, or with a new paragraph; just a hair more than the commas brings (just as the semicolon draws two stand-alone thoughts together just a bit closer than a more separatist period).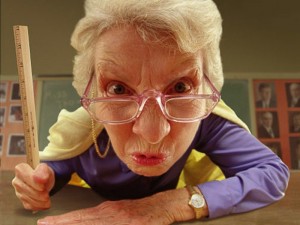 Yet the grammarian complains "there should be a comma there, not a semicolon." Don't you think at some point in history, before the semicolon was born, some other grammarian said, "what is that horrific thing you put there in that manuscript? Those are two clauses that stand on their own. There should be a period, and nothing else."?
Clearly the writer who used the first semicolon (or, perhaps, the hundredth) finally made the case for the easing of the period's finality.
I say if a semicolon adds a bit extra by bringing two capably independent clauses just a smidge closer than a period, why can't it also add just a fraction of a moment's pause more than the briefness of a comma?
And if that argument doesn't sway you, I say that "semi" in front of anything adds all manner of vagueness and ambiguity.
Semi-strong.
Semi-awake.
Semi-steep.
Semi-correct.
Where is the concreteness in any of those words? I say SEMIcolons have a wide variety of use and writers should not be afraid to be bold. Use them. Put them wherever you want to add a little space in the moment; some flair; a rhythm.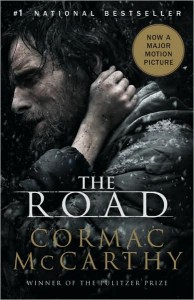 I plan to continue using the semicolon as my muse dictates (i.e. as the words come out of me). I've never had a reader complain. Cormac McCarthy writes books with no quotation marks for dialogue at all. NONE. And his novel, The Road, won the Pulitzer Prize. No Country for Old Men was made into a movie that won the Academy Award for, among other categories, Best Picture. Oh, he's also been referred to a one of the four best American novelists of our time, alongside Philip Roth, Don DeLillo, and Thomas Pynchon.
Dear Grammarians: it's art; and art has style; and that style comes from pushing the boundaries and testing the flexibility of the rules. The rigidity of the everyday turned into something different. Someone has to break new ground (thank you Elvis, Jimi, and a host of others) or we'd still be listening to ballroom dance music.
Please, put the rule book back in the classroom, where it belongs: building foundational fundamentals.
And when you're finished, go put on some Guns 'N Roses.
~~~~~~~~~~~~~~~~~~~~~~~~~~~~~~~~~~
The blank page is dead…long live the blank page.
~~~~~~~~~~~~~~~~~~~~~~~~~~~~~~~~~~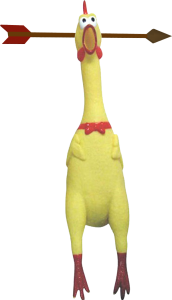 Author known to use spontaneous satire, sarcasm, and unannounced injections of pith or witticisms which may not be suitable for humorless or otherwise jest-challenged individuals. (Witticisms not guaranteed to be witty, funny, comical, hilarious, clever, scintillating, whimsical, wise, endearing, keen, savvy, sagacious, penetrating, fanciful, or otherwise enjoyable. The Surgeon General has determined through laboratory testing that sarcasm can be dangerous, even in small amounts, and should not be ingested by those who are serious, somber, pensive, weighty, funereal, unsmiling, poker-faced, sober, or pregnant.)