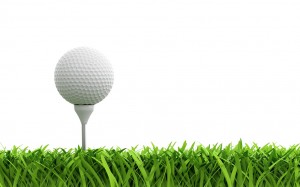 When I lived in the Los Angeles suburbs, for a whole year we golfed every weekend (and some evenings under the lights at the local Long Beach 9-hole par 3 course near my home). When I moved to Colorado, everyone boasted about 350 golf days a year.  I was ecstatic. Wow—turns out I had not given up my wonderfully frustrating and mostly maddening pastime of chasing a dimpled white ball through the woods to grandmother's house before finally placing the silly little thing in the cup designed within it to rest.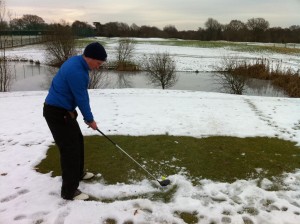 Then I figured out what they meant. 350 days a year you can see the ground (or at least some of it), frozen, yellow, deadpan, snow-patched, and disgusting as it may be. Sunny days don't equate to golfing—just ask the sherpas at the base of Everest.
I don't love golf that much.
I know, that angers the Golf Gods. Screw them. The only thing they ever did for me was give me 2-3 perfect shots every round; just enough glory to make me think it was worth coming back, plunking down my $30-40 per round at the public courses, and humiliate myself for yet another 4-5 hours (L.A. golf rounds are the most notorious in the world for stacking playing groups up at tees for hours on end).
Still, today, as the spring sun melted away the last of the snow and the temperature climbed high enough to open the windows and let the cool breeze bring the fresh air in—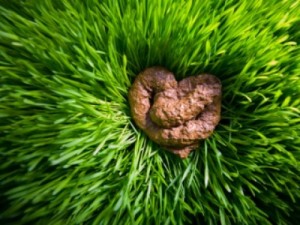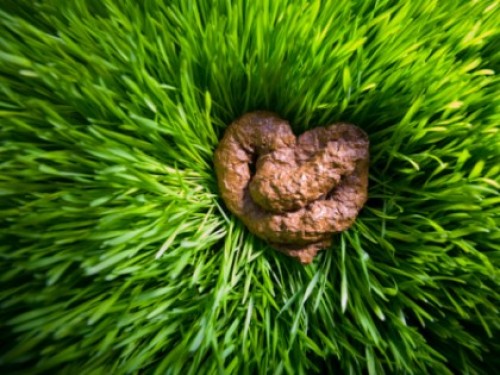 Uh, wait. That smell. That spring time, snow's gone, you-didn't-pick-up-four-dogs'-worth-of-SHIT smell wafted through our house as if the yard had not grass turning green and trees trying desperately to sprout buds that would soon turn to gorgeous cottonwood leaves. Just pounds and pounds and pounds of dog excrement, hidden beneath the hideously deceitful white snow.
I had to stop the smell. At all costs I needed to rid our house of that wretched reminder that, while the dogs are our children and we love them as if they were, children eventually learn to use the indoor plumbing and the best you can hope for with a canine is to train them to squat outside the walls of your castle. But squat they will. Sometimes 2-3 times a day, per dog.
Don't do the math. It will cripple your will to live, as it did mine. Until I discovered a really cool trick. My old, reliable pooper-scooper broke on me a couple weeks back. Our backyard is only fair-sized—the grass part, that is—but the two sides are very large. One is flat and covered in red wood chips, the other is a sloping hill of stone. Point is, the sun does hit our "grassy" area and I keep it clean so we can toss the ball (the mountains of turds waited for me all winter on the flat side, beneath the snow that never sees the sun, covering the red wood like a dark pox underneath the magnificent cottonwood trees).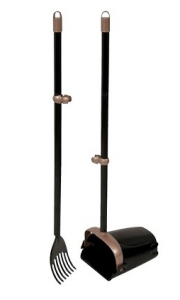 The new scooper I bought, well, without sounding too hyperbolic, I fell in love with the contraption. It's genius. Not that it's new—many of you dog owners probably have this model, or something like it, and have for years—but it's been a long time with my newly-departed crapper scrapper. Anyway, you can see the scooper in all it's glory in the picture to the left, sans bag that mounts nicely inside (got it at Target, by the way). And the bag that goes in it is ENORMOUS (i.e. enough to pick up exactly one day's worth of grass crapping in my back yard by three Aussies and a Chihuahua that goes more times a day than a dog ten times her size).
But even my newfound beaut of a picker-upper would be no match for the smelly tonnage waiting in the wood chips. Then I got an idea. We buy these HUGE lawn trash bags at Costco. Forty-some gallons. I could turn a garbage can into a monster-truck version of a shit-picker! And that's exactly what I did. But good Lord there were so many turds it looked like the British army facing William Wallace and his band of rebels at Stirling. Acreage of do-do. Until I figured out a really cool game I could play:
"Chip the Shit into the Dumper".
Golfers, despair not. Your muscle memory has gone to sleep over the long winter but I am here to tell you there is a way to turn a spring nightmare into your greatest first-time-out golf game ever. Well, your short game (I wasn't about to try and drive my big dog turds hundreds of yard into my neighbors' lots, making my problem theirs—although there's a devil on my shoulder right now that's whispering something fierce).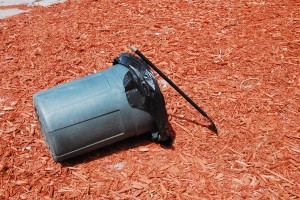 I am not kidding you. Place the bag in the garbage can, lay it on its side, 4-8 feet from the animal droppings, and pitch away. You will be amazed at how similar the muscle movements, stance, and followthrough complete the same task. (And in Colorado many of the courses are covered in goose shit, so the smell really isn't that much of an issue.)
So fear not, you golfers in snow-bound regions. If you've got dogs, you've got your spring practice all lined up for you already and it's not going to cost you a dime and you're not going to have to jostle with the other weekend wannabes to hit bucket after bucket. You know what they say: it's the short game that gets 'er done anyway.
No matter what the bottom of your shoes smell like.
~~~~~~~~~~~~~~~~~~~~~~~~~~~~~~~~~~
The blank page is dead…long live the blank page.
~~~~~~~~~~~~~~~~~~~~~~~~~~~~~~~~~~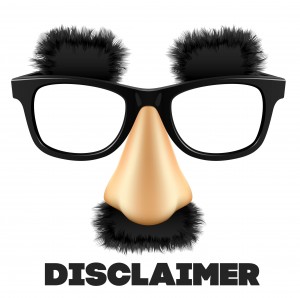 Author known to use spontaneous satire, sarcasm, and unannounced injections of pith or witticisms which may not be suitable for humorless or otherwise jest-challenged individuals. (Witticisms not guaranteed to be witty, funny, comical, hilarious, clever, scintillating, whimsical, wise, endearing, keen, savvy, sagacious, penetrating, fanciful, or otherwise enjoyable. The Surgeon General has determined through laboratory testing that sarcasm can be dangerous, even in small amounts, and should not be ingested by those who are serious, somber, pensive, weighty, funereal, unsmiling, poker-faced, sober, or pregnant.)
~~~~~~~~~~~~~~~~~~~~~~~~~~~~~~~~~~
Golf Tee Image credit: vasabii / 123RF Stock Photo
Short Game Image credit: justinkendra / 123RF Stock Photo