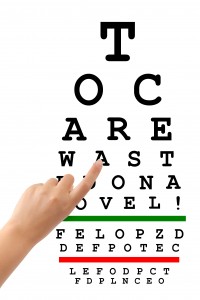 I actually started a blog on this subject yesterday, was pulled away, and never got back to finishing it. Then this morning I had an email/ticket from Amazon in my inbox because a reader complained that my FICTION book does not have a Table of Contents (referred to more lovingly in the writing community as the TOC). When did this completely useless and logic-bending trend of putting a TOC in an eNovel begin (and when exactly did Amazon begin employing mind-readers)?
Before going any further, let's be one hundred percent clear: I'm talking about a TOC for NOVELS. And most fiction, for that matter. I can imagine, I suppose, maybe, an Historical Fiction book or some other strange hybrid of novel that might benefit from a TOC. A collection of poems? Absolutely. A gathering of distinct and independent short stories? Of course. But for 99.999% of the Fiction genres and books out there? Please. Pretty soon they'll be demanding them for the stand-alone short story, so you can go to any break in the text and back to the beginning again!
When I first read Smashwords founder Mark Coker's outstanding (and free) eBook on eFormatting your writing (Smashwords Style Guide: How to Format Your Ebook), I was first introduced to the concept of a fiction book having a Table of Contents. Smashwords will not even distribute your eBook to other outlets without one. So at the time, because I was using Smashwords and I wanted my eBook in online stores like Barnes & Noble, I went through the grueling, laborious task of creating a TOC for my books. (I exaggerate; it IS a bit time consuming and can give you fits with formatting at times, and it makes your eNovel look like cheap, hyperlink crap, but it's doable.) I even created the recommended link for each chapter heading which makes it look like a cliché, hideous blue hyperlink rather than a nicely-formatted chapter heading.
CHAPTER ONE
versus
The whole process and, worse, finished product, made me realize how utterly (and maddeningly USELESS) a TOC is for a novel. To punctuate my point, this is what my first TOC for Black Beast looked like (Hint: it looks exactly like the TOC for the other books with which I took the time to create one):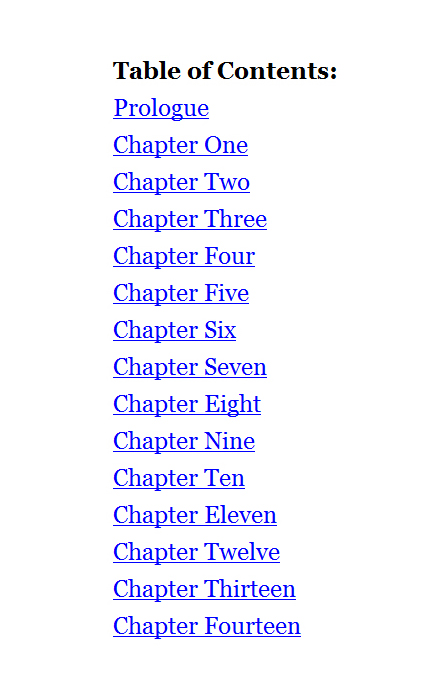 Pretty helpful, isn't it? Wow, I wonder what Chapter Nine is all about? Really piques the interest. And if you ever need to get back to the good old TOC, just click the morbid blue hyperlinked chapter heading and you can return and choose the next chapter from where you want to begin reading. (I know, you can change settings in your Word document to handle hyperlinks without making them look like a sixth-grader made them, but that feeds into a point we'll get to in a minute: wasting my freaking time.)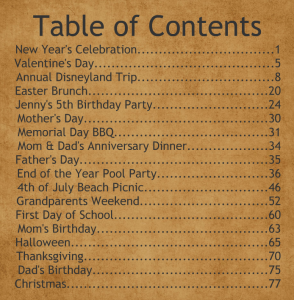 Now I am absolutely NOT belittling the TOC in general. Holy cannoli, for nonfiction? An absolutely necessity. Can you imagine college without a TOC for every boring textbook on Macroeconomics or Russian History or Abstract Algebra? Seriously—in nonfiction books, the TOC makes perfect sense. But in a novel, I cannot think of one possible use for one. The TOC is supposed to exist where there is original content of some kind tied to each chapter or to certain pages in the book (see the TOC I included; this family seems to have had a really fun year, by the way).
eReaders have bookmarking features. Highlighting features. Note-taking abilities. Why on God's green earth would you want to have 2-3 pages wasted in a novel with a TOC? To tell you where Chapter 23 is? What the hell do you know about Chapter 23 that I, the writer, don't even know?
(And by the way, what was the last hardback or paperback novel you bought that had a Table of Contents?)
Yet now I have Amazon essentially strong-arming me into creating one and resubmitting my manuscript.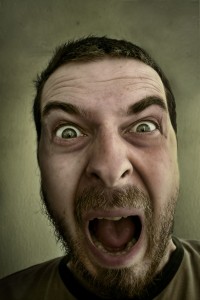 I am aghast. No, "aghast" doesn't begin to describe how I feel. I am pissed. I made my stand on my latest book. Death to the TOC in fiction books. My novel has a five-star rating. Now suddenly I am in conflict with a policy that essentially states that my newly-designed kick-ass adult road bike must have training wheels before the bike store will sell it because some weaselnut complained he couldn't ride one without?
Am I missing something? I am being completely serious. What is it that I am missing here? Am I the only author that thinks a Table of Contents for a novel is as worthless as my grandpappy would say "teats on a boar"? (And yes, I purposely cleaned that one up a skosh.)
Time is such a precious commodity. For all of us, but perhaps more so for the writer who holds down a day job, plus a writing job, and then 3-4 other full-time positions (Editor, Proofreader, Cover Designer, Marketer, Accountant, etc.). So I get a little heated when I am asked to waste mine.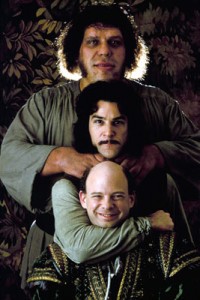 To you it may sound petty, and yes, we pick our battles. But illogical time-wasting really crawls up my craw and sticks there, you know? I probably never would have come back to this issue, but the Almighty Amazon (in addition to randomly removing reviews from my books) has now really got my craw congested (whatever the heck a "craw" is in the first place).
So until convinced otherwise, I am forming a brute squad. The TOC in a novel is my own personal Prince Humperdinck. I wish Andre the Giant were alive because I know he of all people would agree with me. Join us. We'll be rife with torches and clubs and daggers and rope and we'll sack every village and string up every unwarranted fiction-based TOC we find. Their time has not passed—there never should have been a time for them to begin with.
~~~~~~~~~~~~~~~~~~~~~~~~~~~~~~~~~~
The blank page is dead…long live the blank page.
~~~~~~~~~~~~~~~~~~~~~~~~~~~~~~~~~~
Eye Chart Image credit: violin / 123RF Stock Photo (Letters changed by author)
Screaming Man Image credit: dundanim / 123RF Stock Photo
23 comments on "
Death to the Novel TOC (not to be confused with Housewives of the OC)

"
Leave a Reply