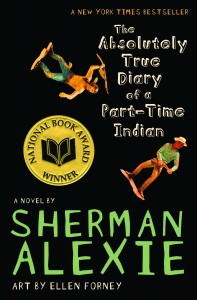 The Absolutely True Diary of a Part-Time Indian by Sherman Alexie

My rating: 5 of 5 stars
I am a huge Alexie fan, having read most of his books. Ironically I discovered him because of the Indie movie "Smoke Signals", based on the interwoven short stories in the collection The Lone Ranger and Tonto Fistfight in Heaven.
Alexie is a poet at heart, though his books are also captivating stories all on their own. His core ability to take some of the most painful human conditions (both external and internal) and write them in a way that makes the heart soar is phenomenal. Add in the author's brilliant mastery of language and you've got more than a winning combination—you have magic.
The book is based on the author's experiences growing up on the Spokane Indian Reservation (as are most of his stories, I believe). This book, however, is labelled as his first foray into the YA market. I have to say, I did not know this when I purchased it nor do I care now (I'm 47—I don't normally read YA books). Alexie is a writer whose words transcend age, gender, and most importantly, race.
Being white, I am both honored and ashamed much of the time I am reading Alexie's books. He writes in what I would describe as "eloquent human truth". He does not admonish the white race so much as shrug his artistic shoulder at history and instead of editorializing about the terrible truth of it, describes how one young, comic-drawing Indian boy survived being torn between two worlds. And he makes the reader's heart ache for both the white race to which he must adapt and his own friends, family, and indeed reservation, most of whom cannot understand his seeming traitorous behavior.
Whatever your age, I recommend this book (and ALL of Sherman Alexie's writing). He is easily one of my favorite authors of all time, and this book does nothing to lessen that feeling. It also has some absolutely hilarious and at times comically poignant illustrations by Ellen Forney.
2 comments on "
A Book Review: The Absolutely True Diary of a Part-Time Indian (Sherman Alexie)

"
Leave a Reply