On July 27, 2012, in Celebrities, Contests, DAUGHTRY, Encouragement for Indies, Fame and Fortune, Famous Writers, Future Ideas, Idol for Authors, Indie Authors, JAMES ELLROY, New Books, Opinion, OPRAH, The Market, by rsguthrie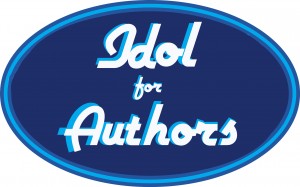 I was replying to comments on the original "American Idol for Authors" post and the creative juices (and pitch man) in me started into overdrive. I noticed the other day a Tweep retweeted the blog post to Oprah—now I am not a loon and I have no expectation that she read the blog (or tweet, though it was an innovative and thoughtful idea). However, it got me to thinking. Oprah is the biggest champion I know for giving good books and talented authors a shot; she also seems to believe the basic idea that reading is a great way to spend your time and more people should be doing it. In fact, my guess is she's more passionate about some of the underlying fundamental issues, too (kids not reading anymore, opting for eye-popping, tickle-me-now video games, movies, etc.).
This "Idol for Authors" would make an excellent new reality show on her new network, OWN. Wouldn't it? Sponsors like Amazon and Barnes and Noble could advertise from Kindle to Nook to Book. A celebrity author like James Ellroy would be PERFECT as a host (I saw him interviewed on a crime special readdressing Los Angeles' most notoriously unsolved murder, the Black Dahlia, and the man is well-spoken, funny, eclectic—all the things you want in a great MC).
I am going to shift gears here for a moment and ask a seemingly non sequitur question:
Have you seen The Cable Guy?
Doesn't matter. One of the underlying subplots is a televised trial where a twin has been accused of murdering his twin (Ben Stiller plays the twin in "real life"). The point is, like other infamous televised trials, this one has the entire country (if not the world) transfixed. Every bar, home, supermarket—anywhere there is a TV present, people are unable to avert their attention from the trial: watching, waiting, anticipating, glued to the boob tube. Near the end (SPOILER ALERT) the murder trial verdict is about to be read when the satellite is destroyed and every television in every home, bar, restaurant, etc. in the area goes to static.
A chubby guy in a recliner looks at his TV, completely perplexed as to what he can possibly do next. He then looks on the snack food-covered table next to him, sees a book lying there, shrugs, lifts it up from amongst the trash, and starts reading (picking up from where he left off who knows how long ago?).
And he smiles as he begins turning the pages.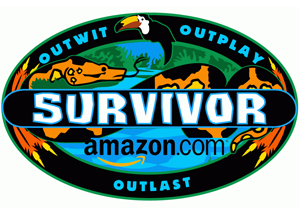 It's time for books (and reading) to take center stage. Time for talented authors to have a shot to walk out of the deepest, darkest, void—from the tangle, and loneliness, and anonymity of the Amazon jungle—through the doom and gloom to present their great books for the enormous readership out there that deserves these as yet unearthed gems.
I still think it could work. Yes, there are 700,000 Indie authors out there who think their book is the one. Yes, just like American Idol, many hopefuls would have to be vetted and turned away, brokenhearted—and that vetting would take a bit of time. Pre-televised, obviously, just as Idol processes hundreds of thousands of hopefuls every year, so, too, would "Idol for Authors" be faced with the same challenge. And perhaps the first year you only televise the Sweet Sixteen, or at least the judging of such by a celebrity panel. There are myriad possibilities. These are just some.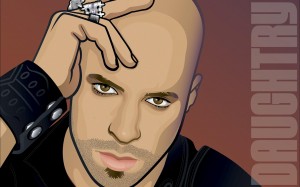 But the reading public, they read and vote. That's key. That way multiple talented writers and great books gain exposure, not just the winner. Remember Chris Daughtry from American Idol? Daughtry finished fourth in viewer voting.
After taking his fourth place wristwatch home, he was then offered a recording contract by RCA Records and his debut album was the fastest selling rock album in history. One million copies in five weeks. Out of fourth place. Grammy-nominated.
Out of fourth place.
Exposure is the key here, not simply winning.
So, the only question is, does someone have the ear of Oprah?
Hello?
Why do I always hear nothing but crickets when I get to this part of the blog?
~~~~~~~~~~~~~~~~~~~~~~~~~~~~~~~~~~
The blank page is dead…long live the blank page.
~~~~~~~~~~~~~~~~~~~~~~~~~~~~~~~~~~
A post-blog treat for you Cable Guy fans: