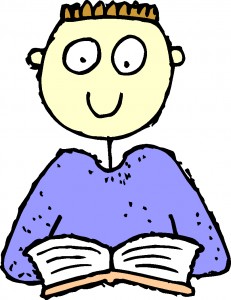 I began reading as a child, as most avid readers do. I talked about it in a previous blog, having just recently ordered a copy of an old childhood favorite, Nunzio, from a used bookstore through ABE Books.
Until I started talking with friends later in life, however, I had no numbers with which to compare how many books I read a year or how long it took me to read one book. Then as years went by I would hear someone talk about reading a book in a day or two. I then became great friends with a voracious reader and the numbers of books he read per year staggered me. I mean, other than writing, there was nothing I enjoyed more than curling up with a good book. Yet early in adulthood I'd be lucky to finish 1-2 books per year. I would start many, but one of the main things I hated about reading is that it made me tired. We're not talking boring textbooks either—the book could be a total page-turner and after just a few pages I would start to yawn and, after forcing a few more pages, put the book down.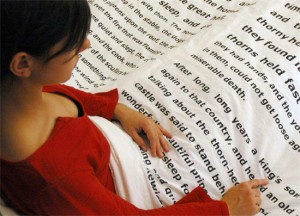 I normally read in bed, so I just assumed that was my problem. However it would not only happen late at night or when I was already tired. Our habit is to watch television or read for an hour or two before sleep—we intentionally go upstairs early for just that reason. We have for years. Then I began to notice the speed with which my wife read. I would print out a page of email or something else I had written and she would read it so quickly I'd say "come on, you didn't really read that" and she'd tell me everything it was about, etc. I finally chalked it up to my being a writer and that I liked to savor the words (on the Kindle, I do stop to highlight particularly well-written phrases by my favorite authors).
Flash back in time. I was a straight-A student in high school and my cousin was struggling (I believe even to the point of being at risk of failing out of high school). Then he was diagnosed as being dyslexic and began therapy. I was a year ahead of him and after graduation was accepted to a very selective private college in Iowa (Grinnell College). The next year, my cousin (an Iowan, as I had been until age twelve) applied and was accepted. His discovering and working on his dyslexia had allowed him to raise his GPA to straight-A's and that, combined with an excellent score on the ACT exam, got him into the same school (we were able to play football together, too).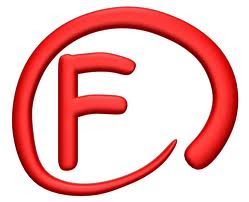 I, however, found every class I took, too hard. Calculus, Computer Science, Physics—all my favorite subjects in high school—I was pulling D's and F's. Struggling. I was eventually expelled from school for my poor grades after my sophomore year (ironically it wasn't the GPA, it was the fact that I failed two classes out of five in one semester). I had never taken a single book home in high school. I just got it. Algebra, Physics, Chemistry, Pre-Calc—the teacher would teach the lesson, I would complete the homework (usually right there in the last fifteen or twenty minutes of class) and ace all my exams. I just assumed my college problems were because I "never learned how to study". So I went back to the University of Wyoming, did better (much easier class load), but by then I was completely disenfranchised with college altogether.
With one semester left in completing a Finance/Economics degree, an opportunity out in California arose for me to work for three or four times the hourly wage I was earning working crappy jobs in college. I dropped out, never to ultimately finish college (the company I started contracting with was the same one with which I just finished my twenty-three year career).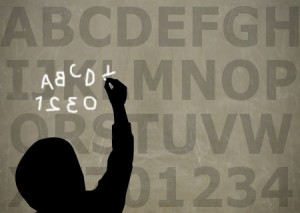 Recently I started to wonder about dyslexia. Ironically, my first Kindle seemed to solve the sleepiness issue. Something about the e-ink technology, presentation, etc. allowed me to finally read for hours on end. I could now, for the first time in my life, finish a book! Still nowhere near as fast as other readers, like my wife. We'd sit in bed, each reading our Kindles, and her clicks to the next page would start to eat away at me (I could hear that they were 1.5 times as fast as mine and it would soon be the only thing I could hear).
I bought a Kindle Fire a few months back. I love it. It was actually a reversal of my own stance on the Kindle (or any eReader), believing them to be utilitarian and not needing things like web browsing, email-reading, etc. PLUS I knew the Fire was back-lit, not e-ink technology. But I am a tech-geek. And I adore high resolution. So I caved. And I love it. But guess what? My reading speed has slowed. Not as much as with an actual book, but the length of time I can read and the speed at which I read are noticeably slower. I've also noticed the tiredness creeping back in, though apparently not as much as with actual books.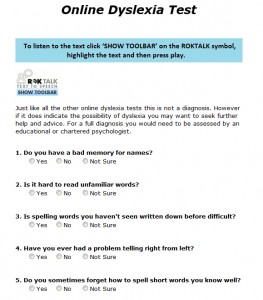 The other night I took an online test for dyslexia, one of those that list ten or so symptoms and you try to figure out if you have any and how many. I seriously think I might have dyslexia. At least to a degree (there seems to be a spectrum of different symptoms and severity levels). Now I have to try and figure out where you go to really get tested and, more importantly, where to figure out a program to help.
There is a part of me that is holding back a growing excitement. What if it's true? What if I could get better?
Now to answer the question some of you may be wondering—does this affect my writing?
Yes, believe it might. There are certain words I substitute for others (where computer keys are not close on the keyboard, and not the typical "you instead of your"—so it's really not a typo; the words will have completely different meanings). Thing and think, come to mind. But there are ones even stranger and less "common".
It seems strange, perhaps, that I waited until I was forty-seven to wonder about this possibility, particularly with my cousin's history. I just didn't do the math (no pun intended). I find myself on the verge of something potentially life-altering. I've considered speed-reading courses. I'd rather fix the core issue, assuming there is one.
Are there any of you out there with dyslexia information or experience? If so, you can email me at rsguthrie(at)gmail(dot)com. I'd be honored to hear your story and any advice you might have.
To finish the story, my slow-reading and inability to finish as many books as others has never stopped me from buying them (both brick and mortar and Kindle). I just always told myself, one day when I am laid up with a broken leg, or completely retired, I'll never run out of books. But that has given me little true comfort.
I am a writer. I love to read;  I need to read.
Maybe I'm onto something.
15 comments on "
A Slow-Reading Author (Am I Dyslexic?)

"
Leave a Reply