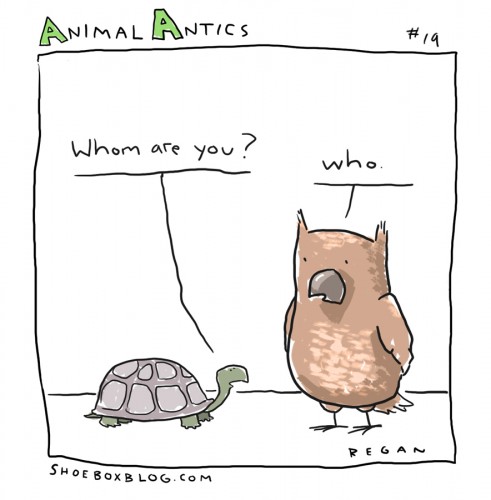 Wow, I can't believe it's another Phreaky Friday already. TGIPF, right? Or any kind of Friday for that matter. And if you work an off-shift and today is your Wednesday (or God forbid, your MONDAY)…well, I'm sorry. But the rest of us are freaking PUMPED. (You can laugh at us next week.)
So the other day I read yet another email from an industry professional that said "your not going to believe this".
Really? Is that before or after I get over my new belief that you flunked high school English?
Now admittedly this person is not a writer, per se. But he has a Master's degree in Engineering, works at a large, reputable corporation, and—let's face it—we really ARE talking about high school grammar here.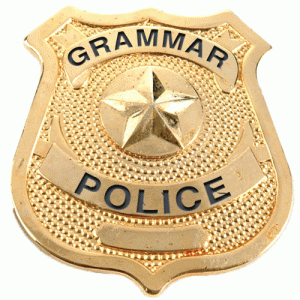 Unfortunately I've seen more than a few writers use the same form of the word above in the same (incorrect) context. I've even witnessed such egregiousness in the first pages of novels I sampled. At one time I was keeping track of the various books and the collection of (mostly unforgivable) grammatical errors but then I realized I didn't want to have that information. I would never "out" a fellow Indie no matter how poor the grammar—it's not my place. Yes, when I was a kid I dreamed of being a cop, but I never once even hinted at being a member of the Grammar Police. I speak in generalities, never about specific authors, so why document it? Honestly, when I see such things I simply click the little "x" at the top of the sample and move along.
Problem is, each incident leaves a little splinter lodged in the back of my conscience. These errors are out there and they are being seen by consumers, publishers, other writers, and a host of other industry people who (like me) are beginning to doubt the overall quality level of the slushpile out there.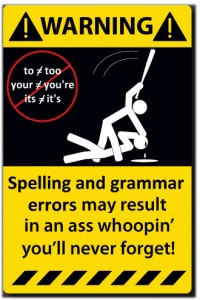 Any of you who have been reading my blog of late know that a recurring theme is the state of the Indie marketplace. I am a part of that marketplace, so the things that happen there affect my profession. That's why I write about it so much.  Recently there were some very astute comments made on one of my blogs regarding writers (particularly Indie writers) needing to employ editors and proofreaders. Russell Blake made a most compelling call for Indies (and all writers) to make this a top priority in the process of releasing their books.
I couldn't agree more. Errors such as the one mentioned above are normally not typos. I am not excusing typos either, but we all know that every author makes them (it's nearly impossible to type out 60,000+ words of anything and not leave a few miscues). I have read plenty of books by traditionally published authors—well-known authors, even—and seen a typo here and there. That said, I've never seen one littered with grammatical, punctuational, and typographical errors.
I read an Indie book recently that used the word "loose" in place of "lose" throughout the manuscript (as in "don't loose your nerve"). I'm talking a few dozen times at least. Maybe more. And it was an otherwise well-written book. My best guess at the time was that the author did a "search and replace" at some point and shot themselves in the foot (not once or twice but with a Gatling gun).
Even a mediocre proofreader would never have let that slip by.
Here's the rub: it really doesn't matter whether mistakes like those mentioned above are made inadvertently by a careless "search and replace" or whether the writer really doesn't know the difference. If the book is otherwise well-written and the story is worth being told, the writer owes it to themselves first and foremost to make their art as honed as it can possibly be. They also owe it to their readers and, finally, their peers.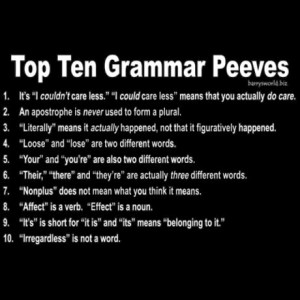 Yes, I know it costs money. And if you are posting to a free website by all means do (or don't do) whatever you please with your own work. But if you have decided to put your writing in the marketplace and charge readers money for your product, you need to make sure it is edited and proofread.
[NOTE: My own personal distinction between "editor" and "proofreader" is this: an editor makes deeper suggestions about the storyline, particular passages, style, etc.; a proofreader looks for typos, basic grammar misuse, format, punctuation, capitalization, etc. This is my own distinction I make when choosing a service, fee, etc. For the record, basic proofreading services can be found at quite reasonable rates. More in-depth editing services cost a bit more.]
Here is the list I call The Flagrant Five:
1. There / their / they're
2. Your / you're
3. Lose / Loose
4. To / too / two
5. Its / it's
There are others. Some more egregious, some less so.
Affect/effect.
Imply/infer.
Who/whom.
i.e/e.g
Most of the writers I know cringe at the thought of poor grammar (particularly when we're talking The Flagrant Five). They (and I) cringe most at the thought of such heinous usage showing up in our own writing. None of us is perfect. We all make mistakes. Hard as we try, crap slips through. Errors pile up.
That's what editors and proofreaders are for.
You don't always have to pay, though I recommend it. I know writers who use relatives and/or friends. That's fine, if your mother/brother/wife/husband/etc. happens to be a retired English teacher. Seriously. A second set of eyes is always better, and they'll undoubtedly catch a few things you missed, but when the manuscript is as good as you (and your relatives) can make it, you really should consider a professional. (And like any other service, do your research. Ask around. Request references.)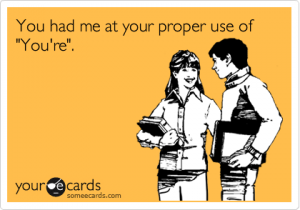 Your book is a reflection of you. It's your art.
da Vinci's Mona Lisa.
Sinatra's "My Way".
Kerouac's On the Road
Whether or not your book ever becomes a historical classic (and here's hoping it DOES), it will always be a classic to you.
And it will be around forever. I think about that every time I release a book:
It will be around for others to read forever.
A hundred years from now.
Two hundred.
Who knows what reader will download one of my books from the 'Net? (Although if it's still on Amazon I am guessing it will be free, and discovered in the "Oldest Books That Never Became Classics" section.)
I tell you this, though: the last thing I want is for my great-great-great grandson to put my book down, lean back in his space-aged recliner and say "my ancestor was a freaking idiot."
Of course he'll probably end up saying that anyway, but hopefully it won't be because I confused their, they're, and there.
~~~~~~~~~~~~~~~~~~~~~~~~~~~~~~~~~~
The blank page is dead…long live the blank page.
~~~~~~~~~~~~~~~~~~~~~~~~~~~~~~~~~~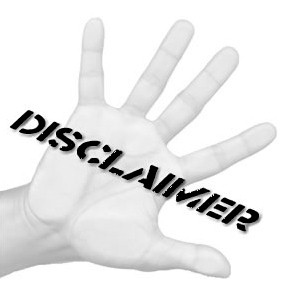 Author known to use spontaneous satire, sarcasm, and unannounced injections of pith or witticisms which may not be suitable for humorless or otherwise jest-challenged individuals. (Witticisms not guaranteed to be witty, funny, comical, hilarious, clever, scintillating, whimsical, wise, endearing, keen, savvy, sagacious, penetrating, fanciful, or otherwise enjoyable. The Surgeon General has determined through laboratory testing that sarcasm can be dangerous, even in small amounts, and should not be ingested by those who are serious, somber, pensive, weighty, funereal, unsmiling, poker-faced, sober, or pregnant.)

23 comments on "
Phreaky Friday: Indies Must Pay (An Editor)

"
Leave a Reply