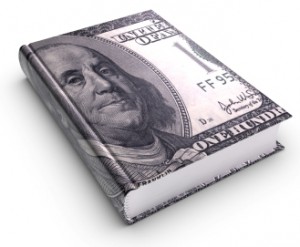 I love hosting fellow writers on my blog, particularly when they have some usable advice for the rest of us. Lately I have been contemplating that leap of faith most serious writers will consider at least once in their lives. I've reached Frost's celebrated divergence in the woods; down one road, corporate servitude and that coveted known quantity called "salary"—down the other, that which defines me, fills me with a meaningful happiness only another artist can attempt to describe.
But money, it's not inconsequential, now is it? I totally understand (and appreciate) the love of writing in and of itself. But for most of us writing must eventually become a business (and therefore a business decision). But what does that mean exactly? For me, it's a simple definition:

It means the writing can sustain itself.
Put another way (and every writer must have had this thought at one time or another):
Write. Full. Time.

If we can achieve that—reach a point where the income from our craft pays the bills, puts a little food on the table, keeps a roof over our heads—then we no longer must relegate that which completes us to a back burner, turned down to simmer rather than rising to the rolling boil it deserves.
Therefore, when Brittany Behrman offered to share 5 Ways to Get Noticed and Earn a Full-Time Writing Job with the RoW Studios, well, I jumped at the chance. I've read her article and I love both its conciseness and its relevance. Sometimes as writers it's difficult to view our craft as a business or a career, yet we need to think about these things: what are employers looking for, do we need a resume, and what we can do to build our portfolios? My guest has answered these questions for you—she's put together a consequential article that we all should take the time to read. So without more introduction…

5 Ways to Get Noticed and Earn a Full-Time Writing Job
by Brittany Behrman
In addition to satisfying a hunger to inspire the world, every starving artist needs a meal on the table each night. Those who have tried to earn a living writing know that competition is steep and compensation is low, so many find themselves unhappily toiling away in an unrelated field.
For writers that lack the work experience necessary to find a stable job doing what they love to do: how can you build your writing portfolio to show an employer your skill and value?
As a recent graduate who circumvented the issue of needing employment to gain experience and experience to gain employment, I've put together a list of the five ways I worked towards my dream job (all while managing to keep a roof over my head working an in-the-meantime job that wasn't quite ideal).
I am excited for the opportunity to share my insight here with Rob on Writing's readers! I hope that following these five tips will help you as much as they helped me in growing as a writer and finding full-time employment.
Read my tips here: https://www.ecollegefinder.org/pdfs/ecf_5wayswritingjob.pdf

About the author: Brittany Behrman began her writing career prior to college graduation reporting for her school's newspaper and contributing to two sponsored blogs. Since earning her B.A. at Rutgers University in Journalism and Media Studies in 2009, she has spent the majority of her time freelancing and bouncing around the job market. In her tireless search for a writing position, she perfected these five tips and is now approaching her one year anniversary writing full-time for the Performance Marketing Agency, DMi Partners, and an education portal for online colleges, eCollegeFinder.org.