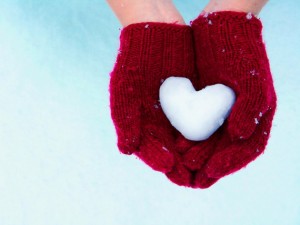 The truth is I have always considered Valentine's Day one of those holidays that long ago succumbed to commercialization over genuine sentiment. Still, you shouldn't infer that I don't have strong feelings about the core emotion behind the spirit of the day. Love. Yes, it does a body good.
For some reason this year I felt more in the spirit of things. One reason could definitely be the caliber of writers with whom I've become friends over the past few months. So many of them write from the heart (one of them straight for the jugular, which ultimately connects to the heart). And no one I know writes more from the heart than Cinta Garcia, so when we decided to swap blogs I figured why not swap on Valentine's Day and make the theme "Love"? (It was really just a great excuse to convince Cinta to write yet another beautiful piece on the subject!).
[You can read my contribution—a poem; yes, you read that correctly: a POEM—over on
Cinta's Corner
.]
But here, in my space, I am honored to present a Garcia original. I'm certain you'll enjoy it as much as I did!
~~~~~~~~~~~~~~~~~~~~~~~~~~~~~~~~~~~~~
ONE SOUL, TWO BODIES
By Cinta Garcia
    Thinking back in time, I can see myself being very happy. Am I sad now? When you think you can lose your beloved one, you cannot avoid that gloomy feeling. You wonder all the time. You think all the time. You feel all the time. When I met him, I knew he was special. I knew he was for me. I knew he was my destiny. I was shocked of knowing that someone so far away had so much love for me.
    People always laughed at me whenever I talked to them about the energies. About the energy connections between two people. I strongly believe we all are connected somehow by strong forces that make us draw closer to each other, no matter the distance. Day after day. Always the same. Feeling the same. Longing the same. Hours ticking away. Long nights, long days. Sadness fading away. Wishing you were not away.
    Italy. Spain. A woman. A man. Two persons. One heart. Loving in the distance. Feeling so close. Strong connection that makes us feel what the other feels. "Do you think we are crazy?" he asks me some times. "Yes, lovers are always crazy." Crazy love, crazy feelings, overcoming every obstacle. Looking into your lover's eyes for the first time. That time when you get lost inside those lovely eyes for the first time. That glorious moment when you see yourself reflected in those loving eyes. Oh, that is a feeling that cannot be described with words; it can only be felt and experienced by the heart.
    We are so close and so connected to each other that we normally feel what the other is feeling. I can say when he is feeling worried even before we talk. He can say when I am upset just by the way I sound when I say "Hello". We look at each other and we know what the other is thinking. Yeah, I know, maybe this sounds too commonplace, but it is true, and it is different. I know it when he touches me or when I touch him. It is like electricity. I feel energized anytime he touches me. If I concentrate hard, I can even hear the cracking sound of electricity on my skin. Melting skin. Two skins mixing together. Two bodies mingled together. Two bodies made one.
    Now we are apart. We have been apart for many months. War keeps us apart. We have not even talked to each other for months. But I still wait every morning for news. I still can feel him. I know he is fine. He is safe from any harm inside my heart. War and love. Such contradictory concepts. Often together in the same sentence. I would start a war to have him back. Because I need him. Because I feel unbalanced when he is not holding my hand. Because my feelings are numb till he comes back.
    Our love has always been like a rollercoaster. Happy when we are together. Sad when we are apart. You feel incomplete. You are only complete when you are reunited with your other half, with that person who fills your heart with utter happiness and selfless love. Feeling like a puzzle that is missing a piece. Feeling like a book that has lost its words. Feeling like a poet who has lost his voice.
    Voice. Cherishing those moments when I hear his voice. Waking up in the morning. Waiting for the familiar sound. Mixed feelings. My skin tingles. Impatience… Eagerness… Waiting. Waiting. Those moments when you wish you could connect with a different mind. A different mind? Two people sharing a same soul, do they have different minds? It strikes you like a thunder. Knowing that you are one with another person. One soul in two bodies. So close and so far at the same time. Missing… Missing him so much. Love. Consuming love that eats your old being up. Our lover changes us. The way he looks at me, thinks of me, touches me, loves me, kisses me… All of that changes me. Being a slave for love? Not at all. Breaking down walls. Letting him in. Building a new wall. We are finally one. Our hearts touching each other. Now I am rest. Now I can relax. Now I am happy. I love you so much.