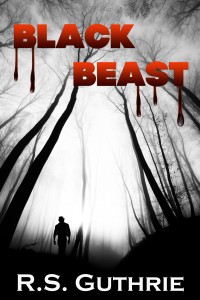 I am currently running a free promo for my new book, L O S T, the sequel to Black Beast. So I've been spending the day watching L O S T slowly climb up the "Free" store at Amazon (at the writing of this blog post I am 12 hours into my promotion and L O S T is ranked #380 overall in Free and #15 in Horror). It's been a lot of fun. But I was sitting here wondering if the action on my second book was having any effect on my first. After all, I just made the new cover (thanks to input from several readers), so I jumped over to my Black Beast page on Amazon.
Imagine my excitement when I saw it had gone from #59,000 Paid in the morning to around 8K! I danced a small Irish jig and went back to watching L O S T. (Actually I was doing some other cover work for my short stories and checking in with the rankings every so often—watched kettle not boiling and all that nonsense).
Well I refreshed the L O S T page and for some reason there were no numbers at all. Bummer, right? So just to make sure things weren't amiss globally, I surfed over to Black Beast and, wow, I was at 2K! (I didn't just jig this time, I jagged, weaved, juked, flipped, and attempted the Mashed Potato.)
Number 2,000 in PAID! The Beast had never been below 10K before, so the cause for celebration was genuine. Okay, but what about L O S T? There were still no numbers on that book, so I went to the Amazon Top 100 lists to putz around and see what I could find (the last report had showed L O S T at #650 overall and #21 in Horror, so I brought up the Horror Top 100 charts). Now I don't know if you look at these bestseller charts that often (I don't, actually) but apparently they line up two columns for each genre—left column is PAID, right column is FREE. Then they list 1-20, 21-40, 41-60, etc.
I clicked on 1-20 and started moving up the FREE chart, looking for L O S T. It wasn't in the Top 20 yet, so I moved on to 21-40. As I scrolled down, I was offered the coolest surprise of my life. My book, Black Beast, new cover and all, was at #28 PAID in Horror! More than that, three slots above me was my childhood hero, Stephen King!!
I felt like puking.
I have no idea why, in that moment of elation (and pending hurl) I decided to do a screen capture on my computer. But I did. And thank God because a few minutes later I wasn't even in the Top 100 (though I thought I saw skid marks around #67 and smelled something suspiciously like vomitous just past #90).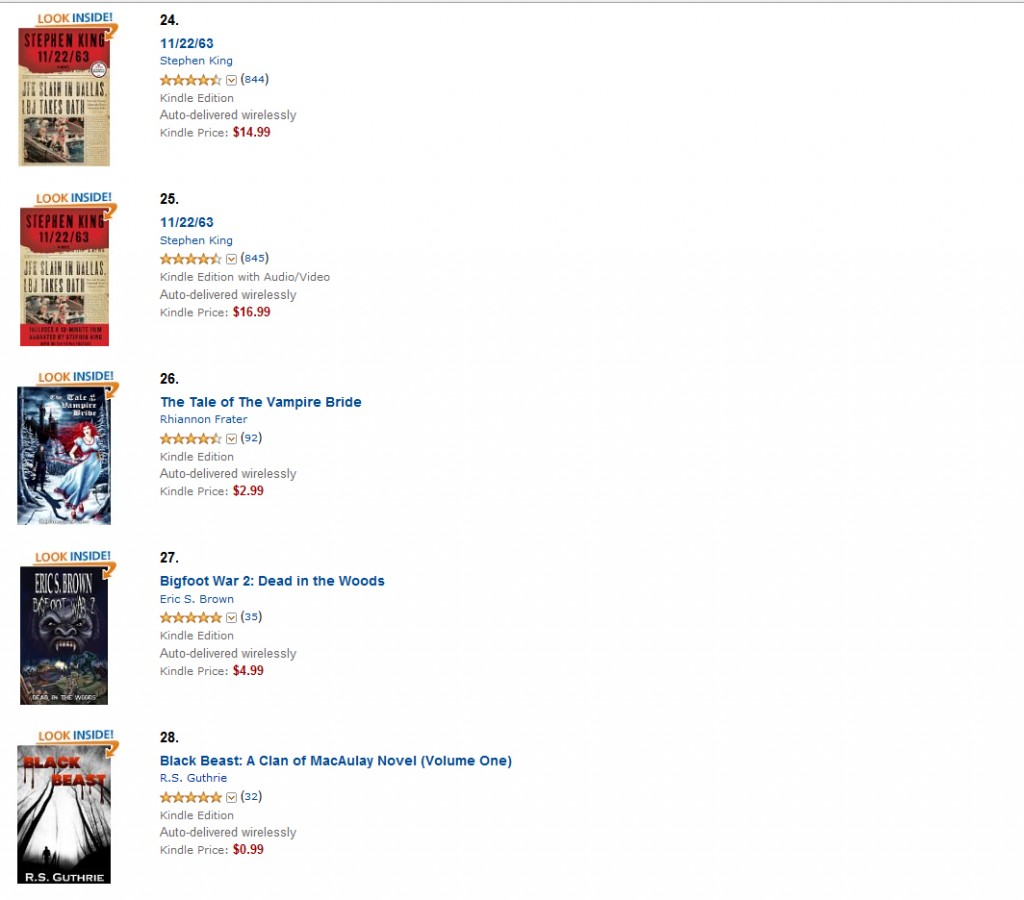 Gone. And who would ever believe me? I wasn't sure I believed me. Yet I had my capture. And here, in all its glory, you too can witness my shining moment. My 15 seconds of fame. Most people get 15 minutes, I'm told. I don't care. I don't feel cheated; I am not bitter. I saw it. Me and King.
The King and I.
And for one glorious moment I tasted it.
Writing success.
Just a sip. No more. But can I tell you, it tasted like the nectar of the gods. Nothing sweeter had ever passed these lips.
And now I go back to clawing my way toward the next rung.
But can you hear me, Stephen?
I'll be back.
(Apologies to Arnold.)
~~~~~~~~~~~~~~~~~~~~~~~~~~~~~~~~~~
The blank page is dead…long live the blank page.
~~~~~~~~~~~~~~~~~~~~~~~~~~~~~~~~~~