As I prepare to release the second book in my Clan of MacAulay series this weekend, I had occasion to think a bit about "serial" novels and what I love about them. My first book, Black Beast, introduced my recurring protagonist, Detective Robert Macaulay (better known as Bobby Mac).
Mac was always in my mind. I knew I would write him one day. There were a few false-starts, where I had him Seattle, Portland, and then in Los Angeles. He didn't find his real home until I moved to Denver. It wasn't his fault. Like I said, I always knew who HE was…I was just never sure (as his creator) where it was that he hung his hat.
But a fellow writer asked me recently about my reasons for writing a series with a recurring character. My answer was actually pretty uncomplicated: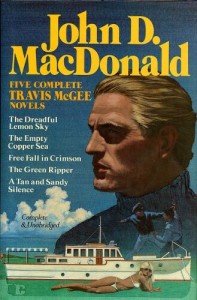 I have enjoyed so many great detective serials that I just knew I had to write one. I cut my teeth on John D. MacDonald's Travis McGee series. Travis is a "salvage operator" who lives on a houseboat in South Florida. What does a "salvage operator" do, you ask? Well, say some really nasty drug dealers have stolen your $10 million yacht. What the heck are YOU going to do about it? You might hire Travis McGee. He's 6'4″, athletic, great with the ladies, a hell of a barroom brawler, has a huge heart, and he's really good at chasing down people's things and getting them back.
Oh, and he only charges HALF of the total recovery! So you can be out $10 million, or you can hire Trav and maybe only be out $5 million.
McGee takes jobs as he needs them. When the money runs out, Travis starts searching for work. Point is, Travis McGee is one of the coolest characters I've ever read. Some other great ones?
James Lee Burke has three: Detective Dave Robicheaux (New Orleans, P.D.), Ex-Texas Ranger turned lawyer Billy Bob Holland, and Texas Sheriff Hackberry Holland (Billy Bob's cousin).
Burke is a literary treasure—a poet turning out some of the hardest-boiled, character-driven mysteries of the twentieth century. If you haven't read him (and haven't been introduced to his flawed, wonderful, tragically heroic characters), you are truly missing out.
I can honestly say that no writer has influenced me as much as JLB. Waiting patiently for the newest Robicheaux or Holland book helped me understand how much fun are (and how sweet was the wait for the return of) great recurring characters.
There are literally hundreds of recurring characters in the Mystery/Detective genre. Dennis Lehane gave us the Patrick Kenzie / Angela Genarro duo. James Patterson created forensic psychologist Alex Cross. Richard Stark (AKA Donald Westlake) brings us The Parker Novels.
What these writers and their respective series have in common are great characters. For me a book is only as good as the characters who wander around under the author's direction. If they are stale, flat, uninteresting, or—worst of all–-too perfect and not human, then the reader is never going to relate to them. However, if you create a character with whom the reader relates and for whom the reader can cheer, well then, you've really got something to build on.
Bobby Mac is my such character. And if the readers' comments mean anything, he is memorable, likable, and above all flawed and human. (I even know one reader who has professed a crush on Mac. She bugs me at regular intervals, wanting to know when he will return.)
And so he does. Return, that is. This Sunday. My detective is BACK. I have to tell you, I missed him as much as everyone else. I love writing this guy. Half the time he writes himself, and that is not my split-personality talking. Bobby Mac is just one of those guys. What's the old line? Men want to be him, women want to be with him.
I don't know about you, but that's the kind of hero I enjoy reading. There aren't enough of them in real life; we all know that. So why not create a series where they can live on?
I have. All you need to do is drop in for a read!
THE NEW BOOK:
L O S T
L O S T is the sequel to Black Beast, the 5-Star debut novel in the Clan of MacAulay series, and is set to release digitally on January 1st, 2012.
Denver Detective Bobby Mac returns in this intense horror/thriller, set in the northern panhandle wilderness of Idaho. After receiving a phone call from his brother, the Chief of Police in Rocky Gap, Idaho, Bobby Mac travels north to assist in the investigation surrounding two gruesome murders and the abduction of an eleven year-old girl.
These two seasoned cops—estranged brothers reunited—will bring all of their experience to bear in a case that threatens not only the safety of a small town, but also the sacred lineage of a family of heroes.
THE FIRST BOOK:
Black Beast — The original!
Black Beast is the first in a series of Clan of MacAulay novels featuring Denver Detective Bobby Macaulay. Bobby Mac has faced down a truckload of tragedy over recent years. The death of his partner; the loss of his own leg in the line of duty; the companionship of his beloved wife to cancer; his faith in God to his inner demons.
After the man who ruined his leg and killed his first partner is executed, Macaulay becomes the lead detective investigating the Sloan's Lake murders. The method of killing in this double-homicide is so heinous it leads Macaulay and his partner down an ever-darkening path–one that must be traversed if they are to discover the evil forces behind the slaughter.
Just when Bobby Mac is questioning the very career that has been his salvation, he will discover a heroic history buried within his own family roots: The Clan MacAulay–a deep family lineage of protectors at the very core of a millenniums-long war against unimaginable evil.
THE CONTEST: Win a Kindle Fire. What more do you need to hear? It's ready to be shipped out. All it needs is a home destination. All you need to do in order to have a chance to BE that home destination is to email me a receipt from a current purchase of either book (or from both, which gets you TWO chances in the drawing). You can read more here.
Oh, and answer these questions for whichever book(s) you buy:
BLACK BEAST (Beginning of CH 4, 2nd sentence): What is the last name of Detective Bobby Mac's wife, Isabel?
L O S T (Beginning of CH 6, 1st sentence):  The Coeur d'Alene National Forest is one of three parcels of land that make up the _____ ________ _______ _________.
(Read Terms and Conditions for giveaway here.)