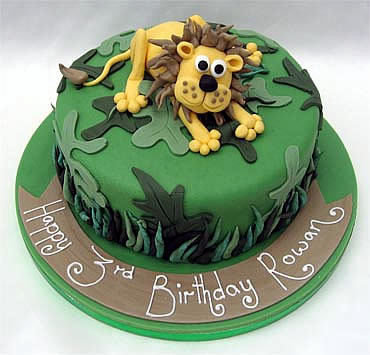 Yep, Monday is my birthday. Not a significant one by any standards. 47. A little closer to 50 than last year, maybe. Well, not maybe. It is. But if you are reading this thinking oh great, someone else who loves to tout their birthday to the world, I forgive you. To know me is to understand that, since my childhood (and my 19th and 21st birthdays, respectively, both of which because of changing federal legislation earned me the right to drink legally), I don't care much for them. My own, that is. I love other people's birthdays. All the fun with no reminder of your own mortality!
(BTW, I have no idea who Rowan is, but when I was 3, I still LOVED birthdays and that is one cool freaking cake!)
But, sweet cakes notwithstanding, you must be thinking, sure…if you hate your birthday so much then why are you announcing it to Cyberspace, chowderhead? Simple. I am going to ask you for a birthday gift (another thing I don't tend to do—which, by the way, makes other people very frustrated when they go to buy you gifts).
Read this blog.
If you never read any of my other ravings, writings, diatribes, soliloquies, tweets, DMs…you get the picture—read this one.
Have you ever lost someone really close to you? Ever lost a child?
I can't begin to describe to you the personal wreckage inflicted upon your soul when your beautiful, perfect child dies in his sleep.
Ours did. And we still have not recovered. I was just emailing with a new tweep today, talking about tragedy and what it does to a person. Now let me clarify. I don't mean tragedy like having to put your loving dog down (which we had to do, the same year our son died); I'm not talking about losing your job (which my wife did, the same year our son died); I'm not even talking about losing a parent (which also happened to us the same year our son died).
(Clearly 2008 was not a banner year in the Guthrie household.)
What I am talking about is, quite literally, 9-11 sized tragedy.
I honestly hope you never have to experience it. Because it is amputate my four fucking limbs and remove my heart with a scythe instead of THIS  kind of tragedy.
Horrific, never-going-to-ever-forget-what-this-feels-like tragedy.
That kind of experience, it changes you.
Or it kills you.
I suppose sometimes it is both.
For my wife and I, we leaned on each other. I'd say we leaned on God, but that would be a lie. See, we believe in God. So it was that much harder to understand why 2008 was, well, so soul-numbingly GRUESOME. I'm not a bad guy. My wife is a good person. And no one I have ever known deserves that kind of year.
So we leaned on each other. It was easy. She is the light of my life and we were the only ones who had any clue as to what the other was going through.
And we made it through. Into the depths of hell and back.
Like Dante and Virgil.
We saw horrors no one should ever, EVER, have to see.
How did it change us? For us, we decided there was no way we'd be caught standing on the sidelines of the game of Compassion playing grab-ass with the cheerleaders ever again. My wife volunteered at the local state SIDS organization. She cold-called people to raise funds. We attended their big annual fundraiser walk, three years in a row, bringing with us the biggest team, the most auction items, and more spirit than anyone in the park.
We raised money. From friends, family, and sometimes, strangers.
And that, dear readers, almost DID kill us.
Why do people wait for life-altering tragedy before getting off their behinds and putting a foot in the game? Where does this agnostic, someone-else-will-take-care-of-it, laissez-faire attitude come from?
I am not criticizing. Well, yes I am, but I am criticizing who I was. Oh, I CARED. I did! Inside of me. My eyes swelled with tears at the plight of others. You think I didn't care that people lost their children to SIDS? I grieved for them. Some friends from college lost their child twenty years ago, and I felt so much pain for them. What did I actually do?
Not much.
So I will dispense with the doom and gloom and tell you why I am really writing this. One of the reasons I so wish I had a lot of money is so I could be a philanthropist. If I was Oprah—don't laugh—I would not own multiple 5,000 square foot mansions. I would not own one 5,000 square foot mansion (not unless I planned to turn it into a halfway house for, say, 300 people).
But there is a mansion I would own. Or at least one I would support.
The Joshua School.
Yes, any of you who have read my previous blogs, or viewed three-quarters of my thousand-plus tweets, knows I am trying desperately to raise funds for the autistic son of some friends, so that the cost of attending a wonderful school that has all the things he requires doesn't completely overwhelm their family. The Joshua School is actually an old, historic Denver mansion, turned into a comfortable, home-like setting for a school that is dedicated to kids ranging from two and a half to twenty-one.
What I decided when I released my first novel this year was to donate 50% of the net proceeds to Ben's tuition. I was naive enough to also stipulate that anything above and beyond Ben's tuition I would continue to donate, to the school's general operating fund.
Riiiight, Rob. Ben's tuition is in the neighborhood of $15,000 to $20,000 per year. Planing on selling a few books, buddy?
Anyway, I also came up with a tagline:
Read a Book, Make a Difference.
I didn't know how or when, but in my mind I could see me convincing other authors to join the cause. Not Ben's, per se, but Read a Book, Make a Difference. The concept is pretty solid: avid readers are going to buy more books anyway—even in such a recessional economy—what if they were given the opportunity to buy from lesser-known authors that were donating a percentage of their net proceeds to worthy causes of their own choosing?
Writers making a difference.
Authors dedicated to giving something back. The more they succeed—the more readers that begin to follow them—the more the benefit to their respective causes. And no one is being asking to purely donate funds; they are only being asked to consider trying a read from one of our authors; give these authors a chance, knowing that some of the dollars you plunk down will also, in addition to getting you the book you were going to buy anyway, fund a needy person's reality.
So I grabbed a pair of domain names:
and
http://www.ReadABookMakeADifference.com
The first will be the main site name. After some bantering, we decided simple was better (and it's not a completely forgettable acronym). The second is for branding. If someone remembers the name—and they will remember the name—they can get to it the "logical" way (i.e. typing a million characters that won't fit on signage or a bumper sticker).
What we need now are authors. Authors willing to pick a cause, decide on a book (or books), and commit to dedicating a percentage to their cause. What I will do is maintain the website, posting the authors, author pics, bios, cover art, book description, and info about the respective charities. When we have the site up and running (i.e. when I can get 6-12 authors who are willing to join up as the core), we can promote the heck out of it.
So that's it. I reached out to a dozen writers…so far, I've heard back from one. But he's ON BOARD. So with me, that makes two.
Who else wants in the game?
My email is rsguthrie@gmail.com.
Reach out. I promise, it will feel good.
And please, no birthday wishes. If you want me to have a happy day, you know what to do.
Oh, and a cake like the one pictured above, please!
~~~~~~~~~~~~~~~~~~~~~~~~~~~~~~
The blank page is dead…long live the blank page.